Transformational Living Centre [TLC] for Families announced the launch of a new website — www.tlc.bm — which they said is "fresh and loaded with information about the TLC, its transformational programme."
A spokesperson said, "The soon to be opened Transformational Living Centre [TLC] for Families, has launched their new website. The site, developed by The Whitfield Group Ltd. is fresh and loaded with information about the TLC, its transformational programme, how the programme was established, how you can support and how you may make a donation. It is worth the visit at www.tlc.bm."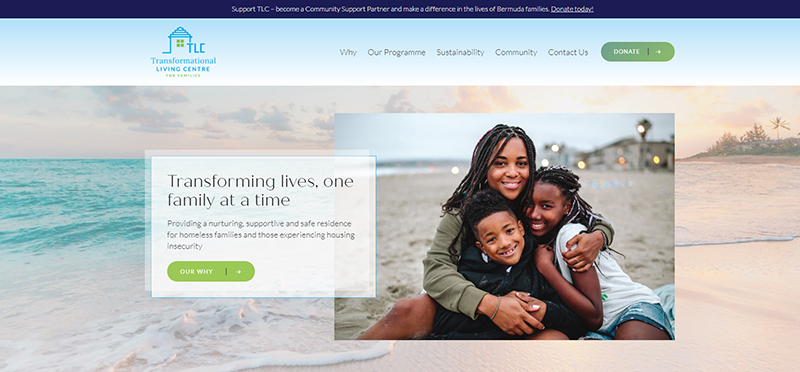 Tina Laws, executive director of the Women's Resource Centre stated, "We are all extremely excited to see this project come to fruition. The project started in 2017 as a discussion between Sheelagh Cooper of Habitat for Humanity and Elaine Butterfield, the then Executive Director of the Women's Resource Centre, as a result of the growing requests for accommodation from women and their families who are housing insecure. The discussion grew to a Think Tank discussion involving 18 other stakeholders which revealed just how desperate the issue really is.
"Habitat for Humanity along with their partners are responsible for the complete renovations of the now state of the art facility, while the Women's Resource Centre are responsible for the development of the transformational component of the program. The transformational programme is for two years, and started with a robust Pilot Programme that graduated 7 success stories out of 10 participants.
"The incredible property has been leased from The Pembroke Parish Council for an initial period of 15 years with the option to renew, rent free whilst being renovated"
"Please visit the website at www.tlcbermuda to learn more about the program and how you can support. Five families have been chosen who will become guests of the TLC for Christmas of this year to start, after which the facility will swell to the maximum capacity of 10 families.
"Further information can be obtained from the website, or by email at transformationalfamilies@gmail.com or at wrc@wrc@outlook.com."

Read More About
Category: All, technology