Bermuda Realty Company Limited and Coldwell Banker Bermuda Realty acknowledged a number of team members with long service awards.
A spokesperson said, " The team members recognized had an incredible 185 years of cumulative service. The Long Service Awards, presented by Brian Madeiros, President and CEO, shone the spotlight on staff who have reached key milestones in their years of service, ranging from 5 to 40 years. Mr. Madeiros said how proud he was of the long serving members of the team and commended them for their commitment and for being an integral part of the organization.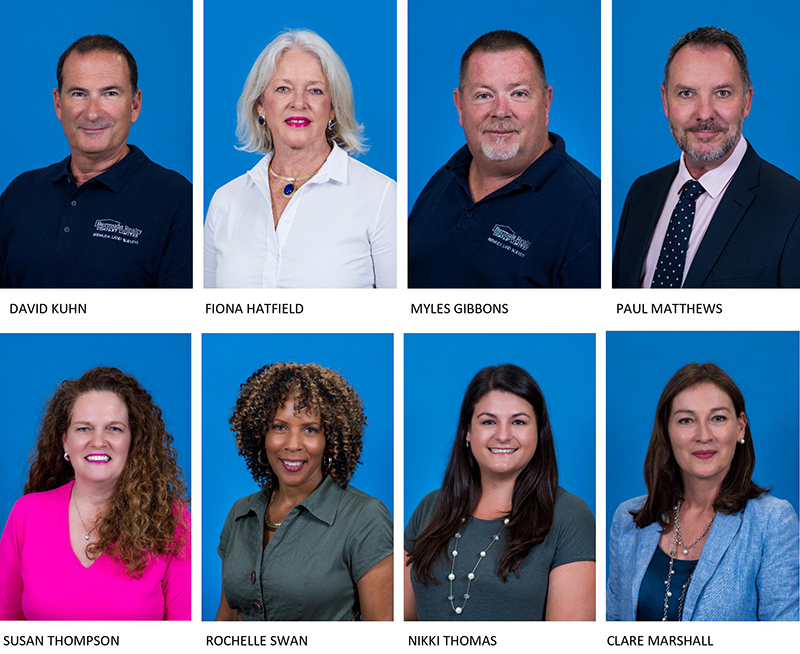 Addressing the Company, Mr. Madeiros said, "Today, we give recognition to those loyal employees that have committed much of their career to providing excellent service to our customers and clients, making us the largest full service Real Estate Company in Bermuda. Your dedication to continuous learning and your willingness to go above and beyond for our customers and clients is the trademark of Bermuda Realty Company Limited".
"David Kuhn marked 40 years of service. He is currently the Senior Surveyor responsible for the Survey Department of Bermuda Realty. David is a Registered Land Surveyor and has over 32 years' experience of land surveying in Bermuda. He holds a membership with the United Kingdom's Royal Institute of Chartered Surveyors and is a past member of the Bermuda Surveyors Council.
"Fiona Hatfield has been an integral part of the Company for 35 year. Her integrity, dedication and expertise, has resulted in her great success as one of the leaders in Bermuda's real estate field. Fiona's dedication to excellence is recognized by such prestigious awards as the Coldwell Banker International President's Premier, International President's Elite, Top Island Affiliate Sales Representative and designation as a Certified International Property Specialist.
"Myles Gibbons, celebrating his 30th year, joined the company in May 1991 as a Land Surveyor's Assistant, and has pursued a growing career in Land Survey. He worked for 10 years learning every aspect of the job from how to prepare and conduct a full Field survey to calculating boundaries and drafting plans in the office. Myles has successfully built his reputation as a Registered Surveyor at the forefront of the new generation of Bermudian Land Surveyors and is an integral member of the Bermuda Land Surveys Team, through hard work and determination.
"Paul Matthews joined Bermuda Realty 25 years ago as one of the Company's Principal Chartered Surveyors. Today he is the Manager of the Professional Services Department which provides property appraisals, property management [for condominiums, residential and commercial] and land surveying services. Paul was educated in England and received an Honors Degree in Urban Land Economics from Sheffield Hallam University. He subsequently attained the designation of Professional Member of the Royal Institution of Chartered Surveyors. Paul is a Registered Surveyor in Bermuda [RSurv.] and is professionally qualified as a Residential Management Professional [RMP] and is a member of NARPM. He also is a Certified Manager of Community Associations [CMCA] and is a member of the Community Associations Institute.
"Susan Thompson celebrating 25 years with the company brings over 30 years' experience in marketing/advertising and sales to the Coldwell Banker Team. Hailing from the United States, she has served as an Account Executive for large and prestigious advertising agencies, as well as the Marketing Manager for Skytech Systems, a US manufacturer. As the Agency Manager with Coldwell Banker Bermuda Realty, she has recruited, mentored and assisted many Bermudians develop a successful real estate career. She is a Board member of the Real Estate Division of the Chamber of Commerce for over 20 years; she has been on the Real Estate Advisory Committee for approximately 15 years and she is also a Board member of Consumer Affairs.
"Rochelle Swan, who started her real estate career with the company 20 years ago worked in the insurance industry for 18 years prior to joining our team. Additionally, as an entrepreneur, she spent a number of years as a Personal Buyer of women's clothing for an extremely varied clientele, and as a result understands the importance of listening to and respecting the needs of the individual. Over the years she has been the recipient of a number of Coldwell Banker performance awards.
"Rounding out our long service recipients are Nikki Thomas and Clare Marshall, both joining the company in 2016. Nikki's hotel management skills and overall hospitality experience are invaluable assets in her role as Real Estate Assistant to the President and Agency Manager as she is used to high quality client experiences and finding resolutions to situations in an actively changing industry. Her educational background includes studies from both The Ohio State University and Bermuda College having graduated with an Associates of Applied Science Degree in Hospitality Management in 2013 where she was also awarded a plaque for Most Outstanding Hospitality Management Student.
"Clare is excited to be part of the very successful team at Coldwell Banker Bermuda Realty. Her past work experience has set her up well. When working at Appleby Spurling and Kempe, she dedicated herself to the attention to detail required and the organization skills to work to strict deadlines. She also had the same set of values enhanced while consulting for Hamilton Trust Company and assisting in their compliance set up. Clare worked for the private jet company, Longtail Aviation Ltd., as Retail Charter Sales Manager, where client satisfaction and providing unbeatable service were key to her success."

Read More About