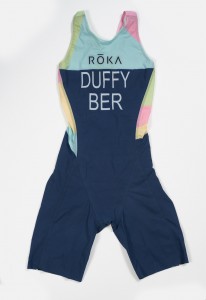 The racing suit worn by Flora Duffy during her historic Olympic gold medal winning performance will be on display at the National Museum of Bermuda.
The Museum tweeted this image, saying, "Last month Duffy generously donated her 2020 Olympic race suit to the National Museum of Bermuda [NMB]. In July, Duffy won Bermuda's first Olympic gold medal with a dominant performance finishing in one hour 55 minutes 36 seconds.
"Forty-five years after Bermudian Clarence Hill's historic bronze medal boxing performance, Duffy's gold medal adds to Bermuda's medal count and makes Bermuda the smallest territory or nation to win an Olympic gold at a summer Olympics.
"Duffy's historic race suit will be added to the Museum's growing sports collection, which also includes the Finn dinghy used by the late Bermudian sailing legend Howard Lee in the 1976 summer Olympics in Montreal.
"The Museum congratulates Flora Duffy on her accomplishment and continues to wish her all the best in her upcoming competitions!"

Read More About