Bermuda's Peter Silvester made a highly impressive showing to save two penalties helping his Connecticut College soccer team win the NCAA Division III Men's Soccer National Championship this weekend.
The College's match report said, "Senior captain Lorenzo Bocchetti [Wilmington, Del.] converted a deciding penalty kick after freshman Peter Silvester [Smiths Parish, Bermuda] stopped two penalty shots as the Connecticut College men's soccer team captured the 2021 NCAA Division III Men's Soccer National Championship on Saturday evening at the UNCG Soccer Stadium.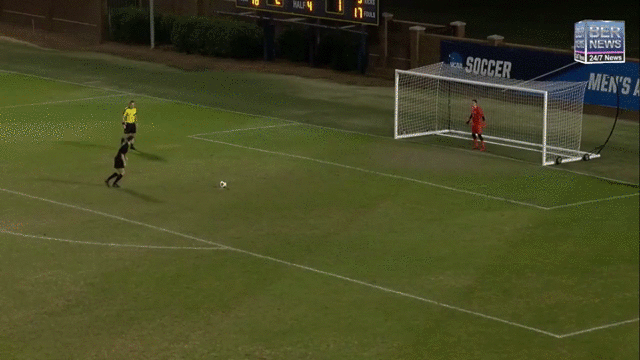 "After playing Amherst to a 1-1 tie through regulation and two overtimes, the Camels converted all four of their penalty kicks and only conceded one to win the first-ever NCAA Tournament team title for Connecticut College Athletics.
"Silvester, who came in cold after junior Sam Maidenberg played the entire 110 minutes between the posts, stopped the first two penalty kicks he faced to set up Bocchetti's final heroics to seal the championship for the Camels.
"Connecticut College got to shoot first, and junior Steve Yeonas [McLean, Va.], who scored the game-winning marker in last night's semifinal, set the tone by firing the ball down the middle to make it 1-0. Silvester then made his first save off of Felix Wu's attempt by diving low and to his right before Tshuma followed with a cannon to the upper right corner.
"Bryce Johnson was the second Amherst shooter and also tested Silvester by trying to place the ball in the bottom left corner, but Silvester came through with another save that mirrored his first.
"An ensuing attempt by junior Augie Djerdjaj [Mahopac, N.Y.] was rifled down the middle to put the Camels in full control at 3-0, and even though Gabe Gitler was able to get one up and over the outstretched arms of a diving Silvester, it didn't matter. Bocchetti calmly placed the ball in the left corner of the net to end it and send the Camel bench and their faithful fans into bedlam.
"The Connecticut College men's soccer program completed its most successful season in school history," the College noted.
"In addition to reaching its fourth straight NCAA Tournament and making its first trip to the NCAA's Final Four, the Camels also won their first NESCAC regular season title, hosted the league's championship weekend for the first time, and advanced to the championship match of the NESCAC Tournament for the first time in program history.
"The team's 18 victories is also a school record and betters the previous mark of 14 established all the way back in 1978."
This marks the second spectacular showing by a Bermudian goalkeeper in a penalty shoot-out this week, as it follows after Dale Eve also saved multiple penalties during a match in England.

Read More About