After adjusting for the retail sales rate of inflation – measured at 3.0% in August – the overall volume of retail sales decreased 2.9% when compared to August 2020, according to the recently released Retail Sales Index.
A Government spokesperson said, "Today, the Cabinet Office released the August 2021 Retail Sales Index [RSI].
"While August's retail sales volume saw a slight decline of 2.9% compared to last year, in value terms, retail sales remained unchanged at an estimated $99.6 million compared to last year [August 2020]. There were some positive retail sales increases in a couple of sectors with the construction industry contributing a 16.0% jump in sales at Building Material stores.
"During August 2021, overseas declarations increased 41.1% compared to August 2020. The rise in overseas declarations was impacted by higher imports of clothing, furnishings and electrical machinery and equipment.
Chart extracted from the report: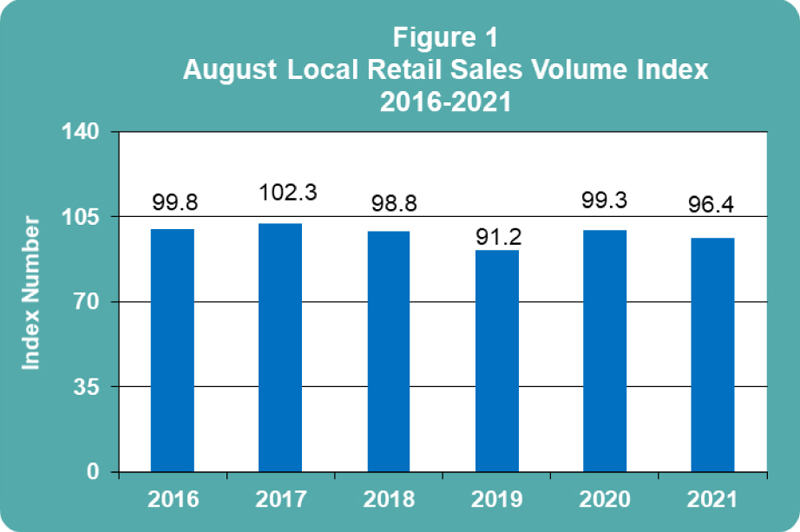 Minister for the Cabinet Office, Wayne Furbert said, "The uptick in building material sales continues to indicate that residents are benefitting from the streamlined Government implemented processes and policies in such areas as planning applications approvals. This has had an encouraging effect on allowing many construction and renovation projects to proceed.
"We are also encouraged that despite the slight decline in retail sales volume, progress is taking place in terms of our commitment to helping local businesses during Bermuda's economic recovery. Recent months have seen significant increases in online retail sales activity. This was clearly evident with the 41% increase in August's overseas declarations. We are determined to make it easier for Bermudian small and medium-sized businesses to benefit from a local online shopping platform, hence the launch of www.bybermuda.bm, which is now live."
"Meanwhile, August's RSI report also notes that more cars were sold, which resulted in an increase of 6.8% at Motor Vehicle Stores.
"Turning to the All Other Store Types sector, which comprises stores selling household items, furniture, appliances, electronics, pharmaceuticals, marine supplies and tourist-related goods – this saw a decrease in August 2021 of 3.0%, while sales for Service Stations decreased by 3.2%.
"And in August 2021, Apparel Stores showed a slight decline of 3.5% compared to a 19.8% loss in 2020. And Food Stores were down by 7.5%, while Liquor Store sales fell by 11.7%."
The full August 2021 Retail Sales Index publication follows below [PDF here]:
Read More About