A newly published book titled Trouble in Travonia & Other New Stories by Jonathan Land Evans is now available.
Mr Evans said, "My creative-writing series has continued, the latest instalment being Trouble in Travonia & Other New Stories, a collection of 22 stories that also includes some bonus pieces, including two short new comedy plays and an interesting new Bermuda literary-history essay about Amy J. Baker and her two early-1920s Bermuda novels, The Painted Lily and When the Ice Melts.
"The 206-page hardback book sells for $13.23, but Lulu usually offers a discount, typically of 10% or 15%, on weekday orders [this week it is 10%, using discount code JOLLY10 at checkout]. The discount also applies to all of my numerous other books in the Lulu bookshop, including my Collected Essays on Bermuda's History.
"The webpage for the new book is here.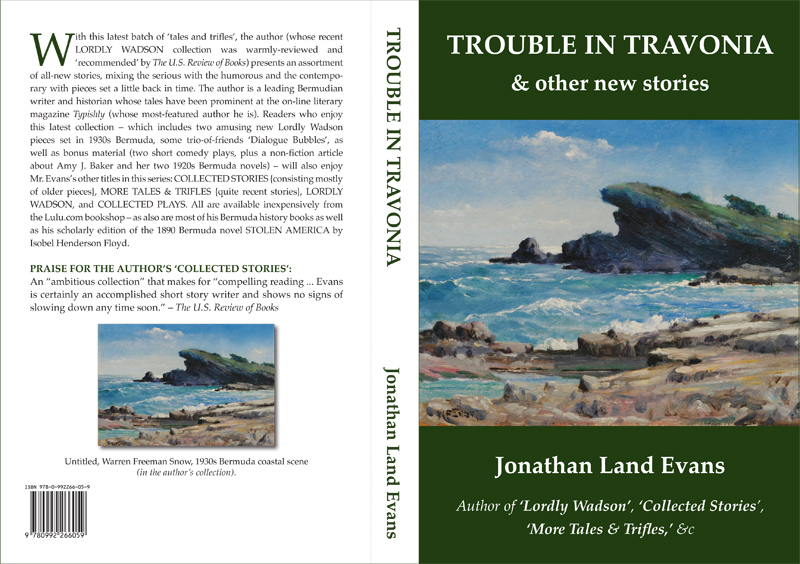 "This latest story collection [which includes two new humorous pieces featuring my character Lordly Wadson] is a follow-up to last year's collection of all-new work, More Tales & Trifles. Last year also saw me publish a scholarly edition of a nowadays-rare 1890 Bermuda novel by the American Isobel Henderson Floyd, called Stolen America.
"All of these books, as well as the several previous paperback collections, are available exclusively via Lulu.com. As I charge no royalties for my work, and do not sell these books on Amazon or other websites [which would basically double their price], they are very good value for the reader.
"Last I checked, Lulu's postage to Bermuda is also far cheaper than Amazon's [though for those who like to use Amazon, or who have, for example, United States addresses, I also offer three paperback mini-collections of my short fiction via Amazon KDP]."

Read More About
Category: All, Entertainment