This Friday [Jan 28], the Bermuda Arts Centre is holding a 'Big Little Show' featuring paintings and mixed media priced at $66 each.
A spokesperson said, "This Friday, the Bermuda Arts Centre is having a Big Little Show, which features paintings and mixed media, all 6″x6″ in size and all at an unbelievable price of $66 each.
"The show is being held as a total fundraiser for the Arts Centre, with all artists donating the total sale of their paintings to the gallery. We are lucky to be surrounded by such creative people that believe in us.
"In addition to the show helping the gallery, it also offers the public a chance to own work by some of Bermuda's leading artists, due to the incredibly low price.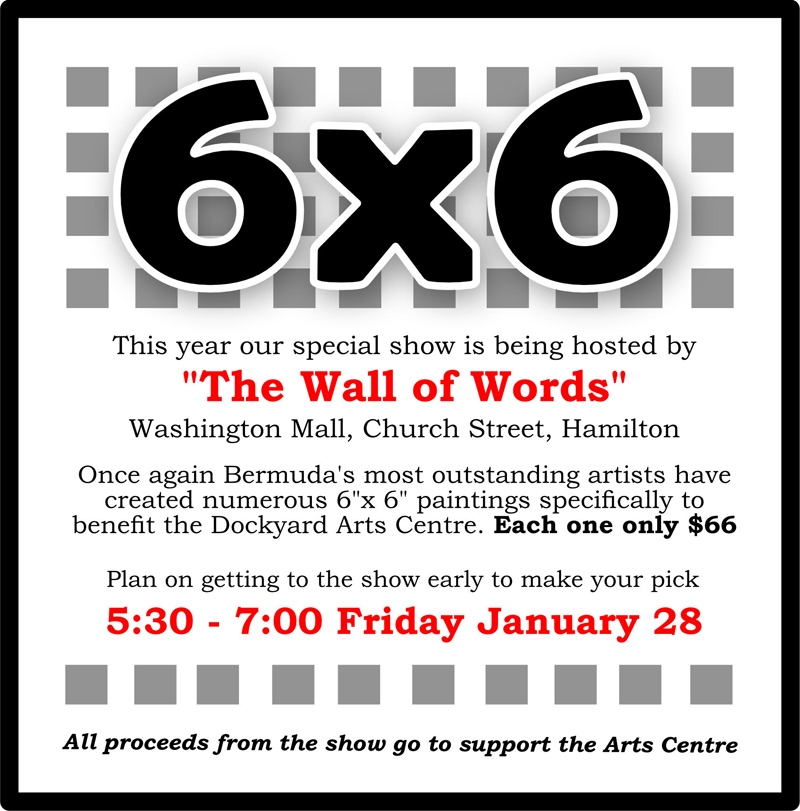 "The show opens this Friday, January 28 at the Wall of Words in Washington Mall at the Church Street entrance, just past Gibbons Company, from 5.30pm to 7.30pm for one night only.
"Any work that has not sold will be taken to Dockyard and remain at the price of $66 each for the next two weeks. Unsold work may be viewed by visiting the gallery or by going online.
"We are posting our entries every day on Facebook. If you would like to see the full feature of art work for sale, check our website. We'll be finished uploading all entries by tomorrow.
"Martin Hatfield will be at the show and will be selling handmade 6×6″ frames in a variety of wood. He'll take your piece, put it in a frame and off you go.
"We will be accepting credit cards, but transactions on a mobile machine often take time to go through. If you have cash, you'll be on your way before the person with the credit card can say 'why is this taking so long!'
"Sorry, no pre-sales on this show.
"Don't forget your mask; strict Covid regulations will be adhered to."

Read More About
Category: All, Entertainment