The Bermuda Football Association announced that the Under 13, Under 15, and Under 17 Open Cup Finals will take place on Saturday, January 22nd at the Flora Duffy National Sports Center South Field.
The three finals are named after three gentlemen to honour the work they have contributed to the sport over the years; the late Gregory Grimes, the late Leonard Deroza-Holder, and Charles Marshall.
Gregory Grimes Under 13 Finals @ 2pm
FC Bascome vs. PHC Zebras
Leonard Deroza-Holder Under 15 Finals @ 4pm
Warwick Archers vs. FC Bascome
Charles Marshall Under 17 Finals @ 6pm
PHC Zebras vs. Warwick Archers
A spokesperson said, "The BFA, Appleby Youth Tournament Finals will be held at the Flora Duffy South Stadium at the National Sports Centre, on Saturday, January 22th. The three tournaments honour individuals who have made immense contributions to Bermuda Football.
"The Under 13 Gregory Grimes Final will see PHC face FC Bascome final in the curtain raiser at 2:00pm. PHC defeated North Village 3-0 to reach the final. Kalen Brunson led the Zebras with two goals with Harlem Bean-Fox adding the third. FC Bascome fought back from a 2-0 halftime deficit to overcome Dandy Town 3-2 in the other semifinal. Dakayo Leverock and Azende Trott Smith gave the Hornets a 2-0 halftime lead. Ramsey Souter scored twice while Mosias Mills scored from the penalty spot to secure FC Bascome's passage to their first Gregory Grimes final.
"FC Bascome will again feature in the Under 15 Leonard DeRosa Holder final when they take on Warwick Archers at 4:00pm. Both teams earned their place into the finals with comprehensive victories. Defending champions Archers overcame Somerset Cricket Club 5-0. Zias Smith led the charge with a brace while Edward Perinchief Ingham, Alexander Lipinski and Paris Robinson each added single Strikes. Nijae Aberdeen scored a hattrick to lead FC Bascome 6-0 over Vasco Youth Program. Other goal scorers were Thomas Elison, James Morrison and Enoch Joseph also got on the score sheet
"The Under 17 Charles Marshall Final will be a repeat of last year's final. Warwick Archers will look to avenge last year's 4-2 loss to PHC when both teams square off at 6:00pm. Archer's overcame Dandy Town and the harsh elements to win 2-0 with goals from Cody Robinson and Tajai Goater. PHC reached the final after defeating Somerset Cricket Club 1-0 with Nyrico Swan scoring the game's only goal.
"All matches will be streamed live on the BFA YouTube channel."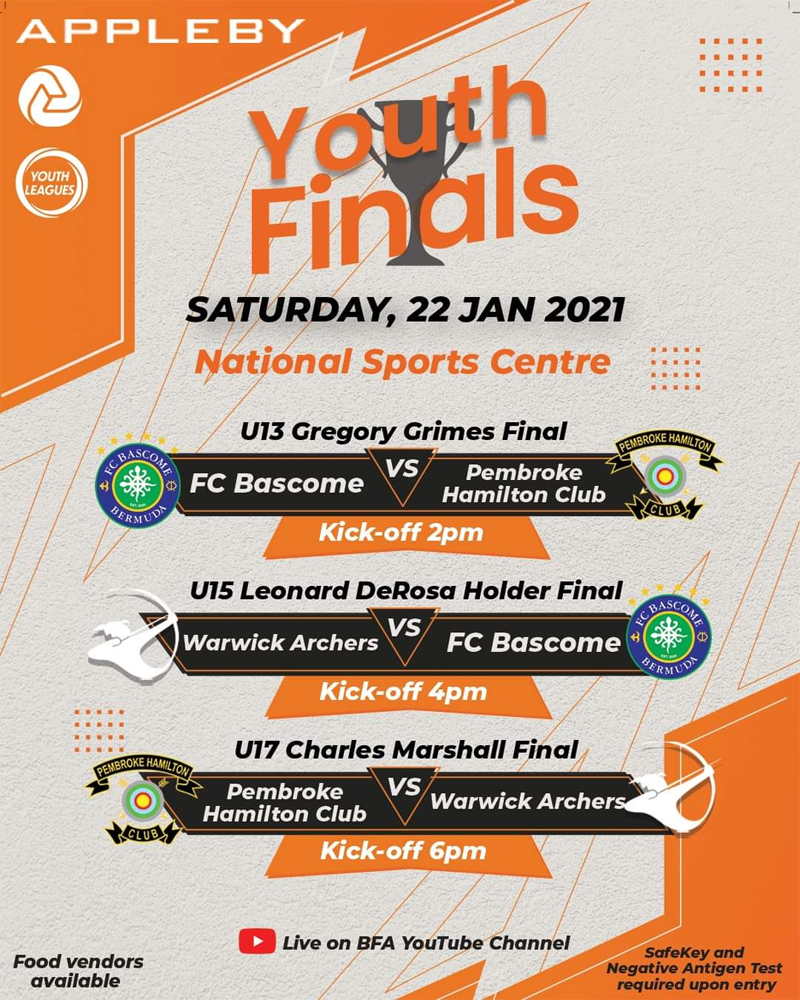 Read More About