Entries are now open for the first Bermuda Lorient – Pure Ocean Challenge, which will set off in May 2022.
A spokesperson said, "Entries are now open for the first Bermuda Lorient – Pure Ocean Challenge, which will set off from the western Atlantic island on 8th May.
"Organised by the Pure Ocean Foundation, Absolute Dreamer and Lorient Grand Large, the multi-class event also aims to highlight ocean conservation and raise funds for the foundation's work.
"Entrants will be looking to better the crossing time of 12 days 23 hours et 16 minutes set in 1983 by Eugène Riguidel and Jean-François le Menec, in the catamaran William-Saurin. They will also be encouraged to collect ocean data, during the crossing, to help scientific ocean research.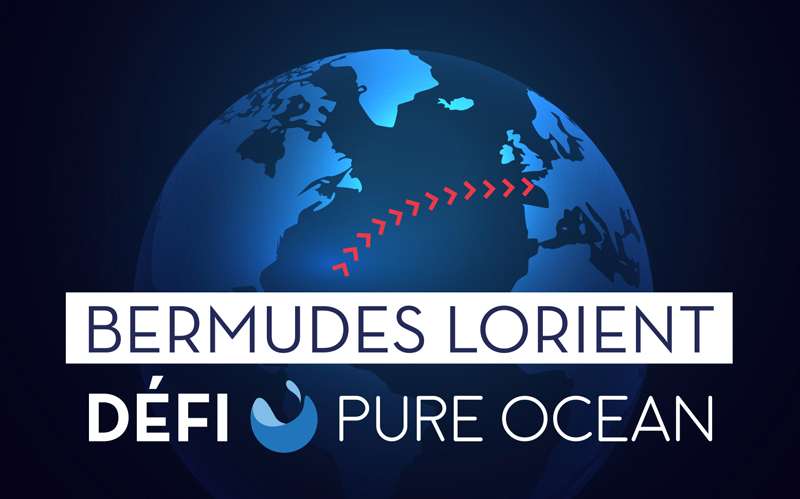 "Pure Ocean ambassador Jean-Pierre Dick, four-times Transat Jacques Vabre winner and CEO of Absolute Dreamer racing team, has announced that he will be taking part in his JP54."
Jean-Pierre Dick said: "This route provides a perfect opportunity, after the Caribbean regatta season, for all classes of boats to head to Europe for the summer racing calendar whilst taking part in a competitive race. This 2900nm Atlantic crossing, during a time of year with warm weather and long daylight hours, is the optimal distance and start configuration for highly enjoyable downwind sailing.
"I'm also proud to be involved with an event that combines the sport of sailing with efforts to raise awareness of ocean health and the need to protect our precious blue planet."
"Whilst race entry is free, participants are being encouraged to make a 1000€, or more, donation to Pure Ocean. Race fans will be able to track the boats' progress on the Pure Ocean website, where they will be able to make donations to help its future work.
"Pure Ocean supports innovative and ambitious scientific projects for the protection of biodiversity and fragile marine ecosystems. The foundation also holds events to increase public understanding of the critical situation our ocean faces."
David Sussmann, founder of Pure Ocean, said: "The Pure Ocean Challenge allows us to combine science with sailing. The sailing community can make a real difference by helping raise funds to support our state-of-the-art research to increase our understanding of the ocean and protect and restore its biodiversity through taking part in this challenge."
"As well as being an open class boat race, entrants are being encouraged to raise awareness of the plight our seas face and there is the potential to collect data for scientific ocean studies."
Jean-Philippe Cau, president of Lorient Grand Large, said: "The Bermuda Lorient – Pure Ocean Challenge builds upon the great story around the historic Lorient-Bermuda-Lorient race.
"The two editions of this race, in 1979 and 1983, were the very first offshore sailing events to be followed by the general public. This is also the story of the strong link between Lorient and the offshore sailing world as it is a port that is totally dedicated to this offshore sailing discipline and the ocean conservation goal of the challenge aligns perfectly with our mission."
"The transatlantic race replaces the previous Pure Ocean Challenge between St Pierre and Miquelon and Lorient. For more information and to take part please click here or email: mission@pure-ocean.org."

Read More About