Stormy conditions, technical problems and injury have forced Jean-Pierre Dick to abandon his attempted record breaking crossing in the first Bermuda Lorient – Pure Ocean Challenge.
A main energy recharging system failure, poor weather conditions and a hand injury made the four-times Transat Jacques Vabre winner decide to halt the record attempt and divert to Horta, in the Azores.
His JP54 boat had left from St George's, Bermuda, on Friday 6th May, but the attempt ended on Sunday 15th May as he sought shelter on the mid-Atlantic, Portuguese islands, rather than the original destination of Lorient, France.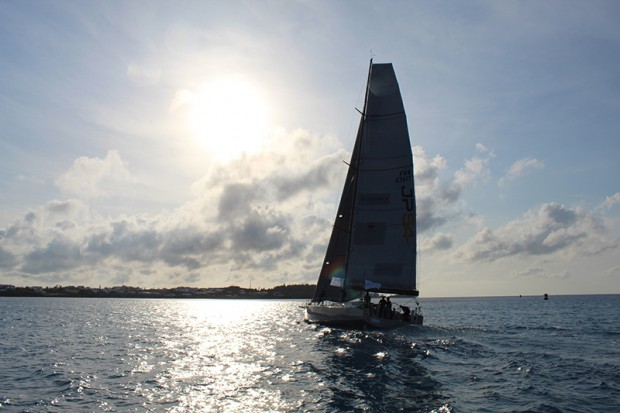 Jean-Pierre Dick had been looking to beat a time for the 3000nm crossing of just under 13 days, set in 1983.
The challenge had been organised by the Pure Ocean Foundation, Absolute Dreamer and Lorient Grand Large. It also aimed to highlight the need for ocean conservation whilst raising funds for the foundation's work."
Jean-Pierre Dick, Pure Ocean ambassador, and CEO of Absolute Dreamer racing team, said: "The record attempt was going well but unfortunately we had to halt the crossing due to the accumulation of a technical problem, an accident and two significant depressions.
"After the recharging system stopped working the back up wasn't fully operational due to the weather conditions. This was exacerbated by several storm fronts and a manoeuvring accident that damaged my left hand.
"These three facts together made it too risky to continue the challenge which was a frustrating decision for the crew who had given everything, but we needed to do this to ensure our safety."
David Sussmann, founder of Pure Ocean, onboard the JP45, was collecting samples and data to advance scientific understanding of ocean health and posting regular updates to raise awareness on the foundation's Facebook page.
He said: "It's unfortunate that we weren't able to finish the crossing and break the record but we managed to collect data and give people an insight into the amazing biodiversity of our ocean and the work of the foundation.
"We will be back again next year to continue our mission and hopefully set a new reference time for the crossing. In the meantime, we are planning a series of events in Lorient over the next week to discuss ways we can restore ocean health and hopefully empower people to join our mission."
"Pure Ocean's main mission is to support innovative and ambitious applied research projects for the protection of biodiversity and marine ecosystems. It also holds events to increase public understanding of the critical situation our ocean faces," a spokesperson explained.
"The JP54 boat was equipped with an Oceano Vox in-situ data collection unit and used DNA analysis tools, provided by Naturemetrics, to monitor and analyse biodiversity."

Read More About