Lateral Flow Bermuda has launched a donation drive aimed at "assisting those most vulnerable within the community."
A spokesperson said, "Lateral Flow Bermuda was founded in partnership by Dr. Jonathan Makanjuola, a visiting Consultant Urologist, and Craig Brown, Managing Director of APEX Physio.
"Lateral Flow Bermuda's mission is to provide the lowest price possible in an effort making high quality lateral flow [rapid antigen] tests available to everyone, helping to keep our community safe and assisting us to return to function."
Cheyra Bell receives a donation of 300 test kits for the annual St. Baldricks Foundation fundraiser for Childhood Cancer Research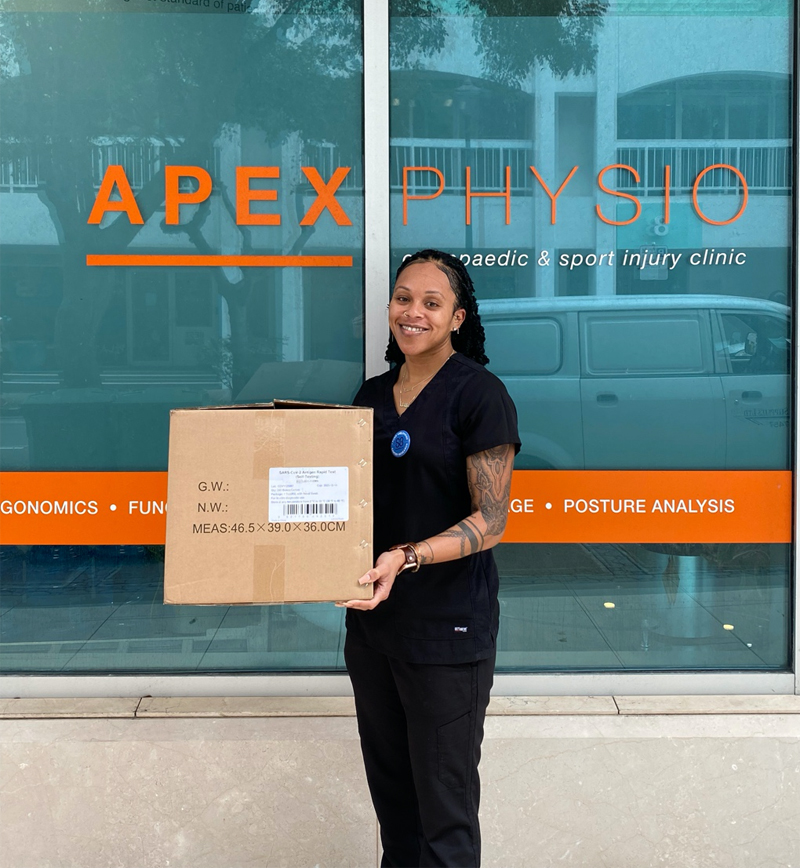 Dr. Makanjuola said, "Bermuda is a second home to me, we have family that live in Bermuda, and I wanted to offer help in any small way I could."
After approaching Craig Brown, together they formed Lateral Flow Bermuda.
Mr. Brown said, "After speaking with Dr. Makanjuola, his proposal closely aligned with our core values on social responsibility as APEX strives to meet the health needs of people within our community."
The spokesperson said, "Lateral Flow Bermuda were the first providers of lateral flow tests to launch a donation drive aimed at assisting those most vulnerable within the community. When corporations or individual customers purchase tests, they are given the option to donate. To date, over 5,000 tests have been donated and discounts given upward of $5,000."
Dr Makanjuola said, "It has been heartwarming for us to see fellow Bermudians embrace the act of giving to help others during these hard times. We wanted to take this opportunity to inform and thank all those that have made personal contributions."
Mr. Brown said, "We continue to receive donations, and to date these donations have been directed to those most vulnerable and on the front lines. We wish to thank Fidelis and Lancashire, both of whom were early adopters of our donation drive with their contributions going to PALS and The Bermuda Hospital Board.
"Other organizations that have received test kits from our donation drive include, Bermuda Diabetes Centre, Bermuda Fire and Rescue Service, Transformational Living Centre [TLC], St. Baldricks Foundation, Bermuda Olympic Association, nursing homes, sports clubs, and educational establishments."
The spokesperson said, "As the pandemic shifts, Lateral Flow Bermuda it is our intention to stay true to our mission and continue to support our island as we return to the workplace and with the travel new regulations. We wish to extend our heartfelt thanks to DHL, who have been a strong ally and global partner with us on this initiative. We believe if we all work together, we can keep providing tests at below global retail prices and continue to have a positive impact within our community.
"Inquiries for lateral flow/rapid antigen tests can be sent to hello@lateralflowbda.com or visit lateralflowbda.com to purchase directly online."

Read More About