The Bermuda Underwater Exploration Institute [BUEI] announced the opening of a new exhibit on Saturday [May 14] entitled, 'Portholes of Discovery', located in the Ocean Discovery Centre at BUEI.
A spokesperson said, "Bermuda's position in the middle of the Atlantic, as well as its place in the Gulf Stream and Sargasso Sea, has made it an important research station for those investigating the ocean. Portholes of Discovery explores the Island through the eyes of the photographers, researchers, and artists who have been inspired by our island's incredible environment. From discussing the natural assets that make Bermuda the perfect marine hub, to delving into two National Geographic expeditions that placed it on the world stage, the exhibit highlights Bermuda's history and continued potential as a center for environmental exploration through photographs, videos, and hands on engagement.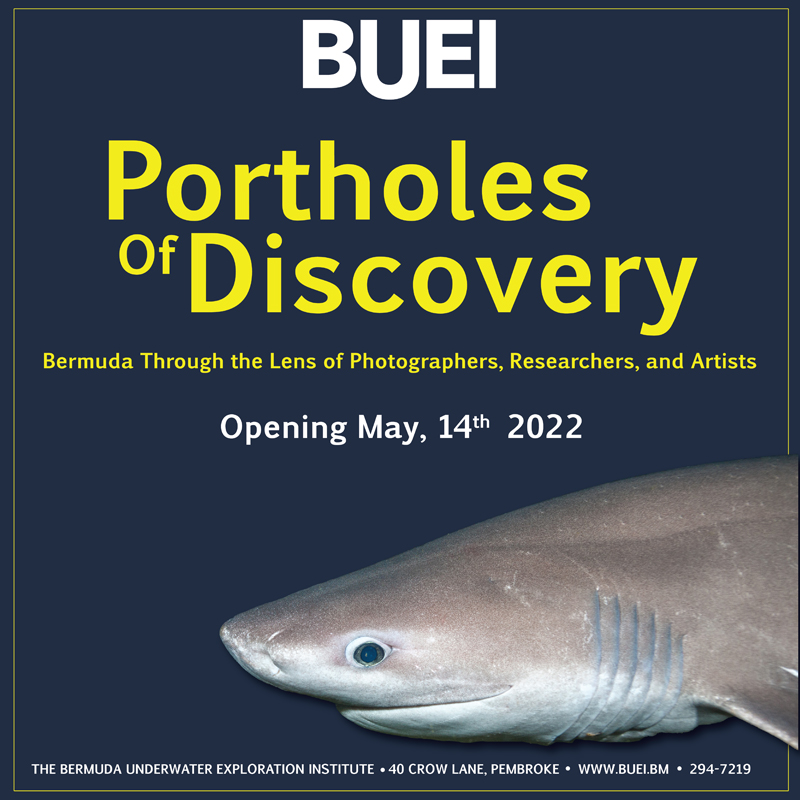 "While touring the exhibit visitors will dive into two internationally recognized expeditions; the Beebe Project in 1984, which was the first time that footage of live deep-sea sharks had ever been captured, and the National Geographic Sargasso Sea expedition in 2010, which examined the marine creatures typically found in the Sargasso Sea. The exhibit also describes some of the different techniques used to capture and document findings and how these techniques and technologies have evolved over time.
"Interactive activities throughout the Portholes of Discovery exhibit allow visitors, both young and old, to become researchers and artists themselves and find out more about what lies below the surface of the waters surrounding our island. Visitors to the museum will have the opportunity to enjoy interactive games throughout the exhibit and take part in a hands-on drawing experience where they are able to use some of the same methods as artists who have worked in Bermuda to capture underwater sea life.
"The new exhibit was curated by a committee comprised of BUEI staff members, consisting of Collections & Exhibitions Specialist, Meshellae Payne, Graphic Design and Branding Officer, Marlo Burgess, Operations & Special Projects Manager, Alison Soares, Education Head, Julie Steele, Marketing & Communications Manager, Jessica Bowers and Chief Executive Officer, Karla Lacey. Specialist input was provided by Honorary BUEI Member, Wendy Tucker, BUEI Director, Philippe Rouja, Jean-Pierre Rouja and Marine Research Fellow, Fae Sapsford."
"In this 25th anniversary year for BUEI, we're excited to continue the organization's rich legacy of encouraging current and future generations into the field of ocean studies and expanding community awareness of the valuable contributions the island and the people of Bermuda have made to ocean science on a worldwide scale", said Karla Lacey, BUEI CEO.
"This collaborative effort has produced a thoughtfully presented experience in the Ocean Discovery Centre at BUEI, one that has inspired all involved throughout the process. We are excited to share this new exhibit with the public."
Read More About
Category: All, Environment, News