The Bermuda Underwater Exploration Institute [BUEI] announced that 'Shipwrecks' is the topic for this month's 'Kids Hour Saturdays' on May 21.
A spokesperson said, "Kids Hours Saturdays' takes place every third Saturday of the month at 11am and 2pm respectively. Each hour features the screening of short films followed by a book reading for children aged 5-12 years.
"May's Kids Hour will feature the short film entitled 'Keepers of the Reef,' a production of BUEI and the New England Aquarium, followed by a reading of the book 'Shipwreck [Leap Through Time]' by Claire Aston.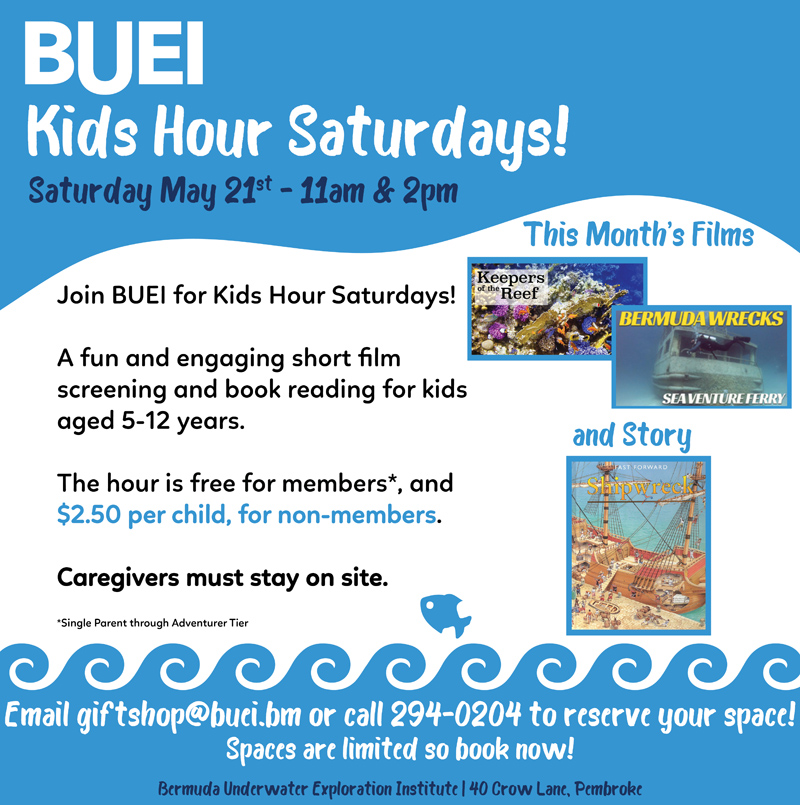 "The film 'Keepers of the Reef,' produced by Peter Benchley and Greg Stone, explores various shipwrecks around Bermuda which were discovered by world-renowned ocean explorer, Teddy Tucker. Each wreck serves as a marker of time used to analyse changes in the ocean from the time the ships sank to the present day.
"The book 'Shipwreck [Leap Through Time]' is a story where readers are invited to time travel to the sixteenth century, where a great sailing ship is being built in a Spanish port. Sailing the Spanish Main and loaded with treasure, it is attacked by pirates and sunk. Today, the site is explored by divers who recover the wreckage and reconstruct the ship in a modern Spanish port.
A BUEI spokesperson said, "Shipwrecks are uniquely interesting as they provide endless insight into our history over the centuries. Each wreck hosts a wealth of information and insight into the cultural dynamics of the time as well as the health and lifecycle of our seas. We are excited to be offering a film that is based in Bermuda's waters and on our history and we cannot wait to inspire curiosity and appreciation for the ocean surrounding us in all those who attend."
"Kids Hour Saturdays are free for members [Single Parent through Adventurer Tier] and all care givers, and $2.50 per child for non-members. Please note, caregivers must stay on site for the hour.
"Mark your calendars for the final 'Kids Hour Saturdays' of the year taking place on Saturday, June 18th. Space is limited and advance registration is encouraged. To register for BUEI's Kids Hour Saturdays, please call 294-0204."
Read More About
Category: All