A 'Family Fun Fest' to mark the anniversary of the 1959 Theatre Boycott will be held on Saturday [July 2] at City Hall.
A spokesperson said, "This weekend's rain has begun to renew vegetation, after a period of drought. This exemplifies the capacity of living systems to recreate, following challenging circumstances.
"This is a reminder of July 2, 1959, a tipping-point of social restoration for Bermuda. In that example, enough people accessing their best, came '2gether' in peaceful engagement and brought about the Theatre Boycott success. The rest is history.
"Here in 2022, we are experiencing evidence of another social 'drought' – globally and locally. Drawing from our legacy of '59, people -outside their boxes – are coming 2gether with a collective effort to promote social renewal to benefit our community.
"One such example is the collaboration for the free 'July 2gather Family Fun Fest' coming on Saturday, July 2, 2022 from 6 – 8.30 pm at City Hall. The goal is to foster the spirit of togetherness, while providing opportunities for family enjoyment and recreation.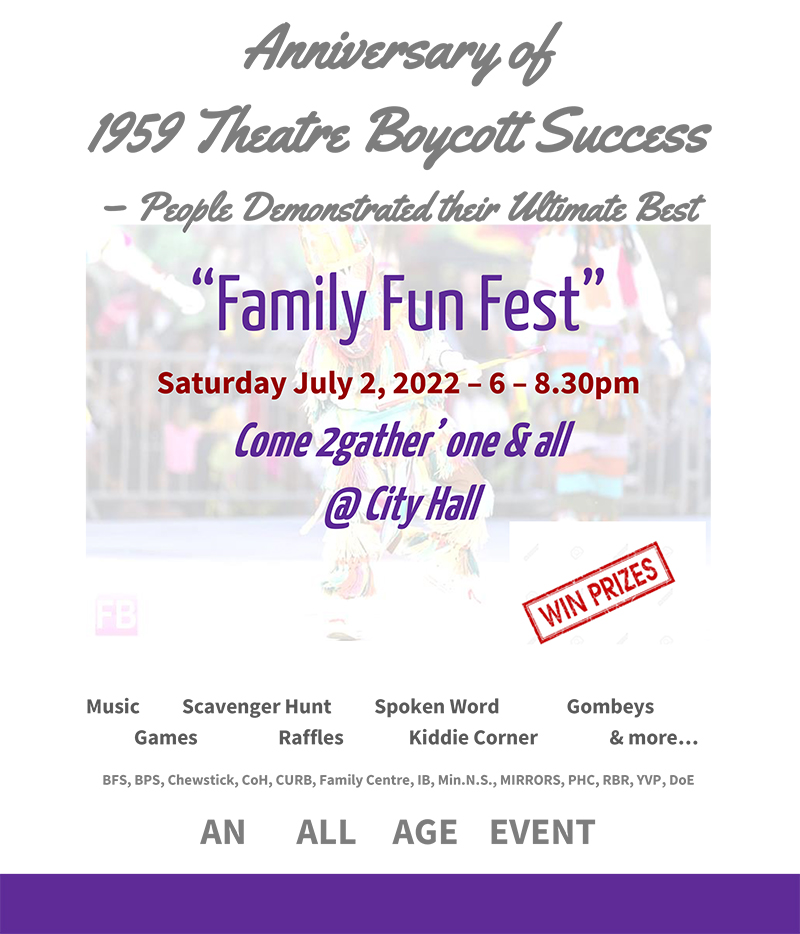 "The Fest will offer a 'buffet' of interactive offerings for those attending; including:
The Fire Service will have their new large ladder truck to engage the public.
Gavin Manders will provide fun intro tennis for young people.
Music, including 'Live Wire' and some dance.
Opportunities for parents to consult with 'coaches' from: the Family Centre, counsellors, Mirrors, etc.
The Community Policing Unit will have a variety of activities for young people.
Board games of Chess, Checkers, etc.
Old fashion family games for all.
Art corner for children.
A Scavenger Hunt
PHC Majorettes & the Gombeys
"Those organizations collaborating include: ADHT, BFS, BPS, BUT, Bda Youth Connection, Corp of Hamilton, CURB, Chewstick, Dept of Culture, Dept of Ed, IB, The Griot, Hamilton Rotary, Min of National Sec., PHC, MIRRORS, NVCC, Youth Vision."
Read More About
Category: All