The opening ceremony for the 2022 Caribbean Games in Guadeloupe was held, with Mikal Dill, Ryan Outerbridge, Liam Flannery, Alexander Miller, and Nicholas Narraway all representing Bermuda at these inaugural Games.
A statement from the organisers said, "The excitement and energy could be felt in the stadium as history was made. It was a moment to remember not only for Guadeloupe, but also the entire continent as the first Caribbean Games officially began.
"Once CANOC President Brian Lewis finished his the speech by inviting everyone to enjoy the Games and join in the celebration, he raised his arms and went to embrace the Guadeloupe 2022 President Alain Soreze.
"The first step towards a new tradition was taken in spectacular fashion. An unforgettable experience unfolded for the more than 800 athletes from 29 countries as they danced to the rhythm of the Caribbean and were unfazed by the rain that fell sporadically during the ceremony at the Stade Des Abymes in Guadeloupe.
"One by one, all the Caribbean countries paraded in front of the fans highlighted by their flag bearers and the unmistakable joy and celebrations of their teammates.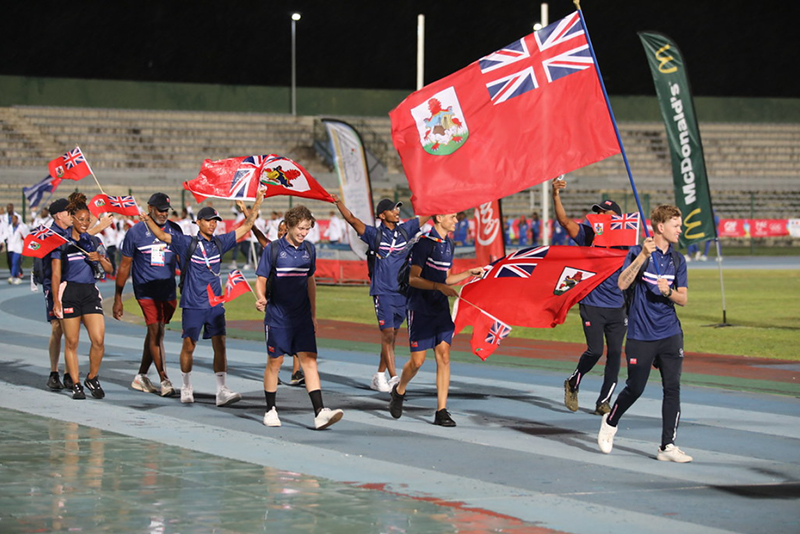 "After the speeches of the Caribbean authorities, it was time for the new tradition of inaugurating these Games. Unlike other events where torches and cauldrons are the symbols that mark this moment, Guadeloupe officially began as the first Conch Shell relay entered the stadium after starting its journey on May 27, concluding with its arrival to the main stage of the Opening Ceremony.
"The shell is a symbol of resistance, freedom and emancipation, making it the perfect icon to kick off this sports festival that will surely mark a before and after in Caribbean sport.
"After the entrance of the Conch Shell, it was time for more music and dancing to close out a magical evening for the incredible athletes of the Caribbean who will surely never forget this moment."
Panam Sports President Neven Ilic watched together with sport leaders throughout the continent and wished the athletes nothing but success during these Games, saying, "it's nice to see the joy of the athletes parading. They are the future of our sport and our work must focus largely on them, on the new generations."

Read More About