Bermuda Dance Academy will be holding its seventh annual 'Into the Wild' recital tomorrow [June 25] at 2.00pm and 7.00pm in the Berkeley Institute Cafetorium.
A spokesperson said, "Please join Bermuda Dance Academy as they dance 'Into the Wild' in their seventh annual recital directed by Nikia Manders on Saturday, June 25th, 2022 at 2pm and 7pm in The Berkeley Institute Cafetorium.
"The dance recital will feature various styles of dance. Dancers from ages three to eighteen will perform choreography inspired by your favorite Wild Animals – Butterfly, Flamingo, Penguin, Zebra and many more.
"Young dancers are very excited and have worked tirelessly practicing routines over the last few months in anticipation of this production. We are thankful to our parents for their continued support and commitment to our school.
"You won't want to miss this exciting show that highlights both class and solo acts from a talented group of aspiring young dancers.
"Those interested in partaking in a concert that will take you on a magical and adventurous journey are encouraged to purchase tickets online at ptix.bm. General admission is $30 while patron tickets are available for $60.
"We are thankful to our dancers, teachers, parents, family and friends for their support and commitment throughout this event. It is their hard work and dedication that makes our work worthwhile.
"For further details, simply check out their website or call 799-7760."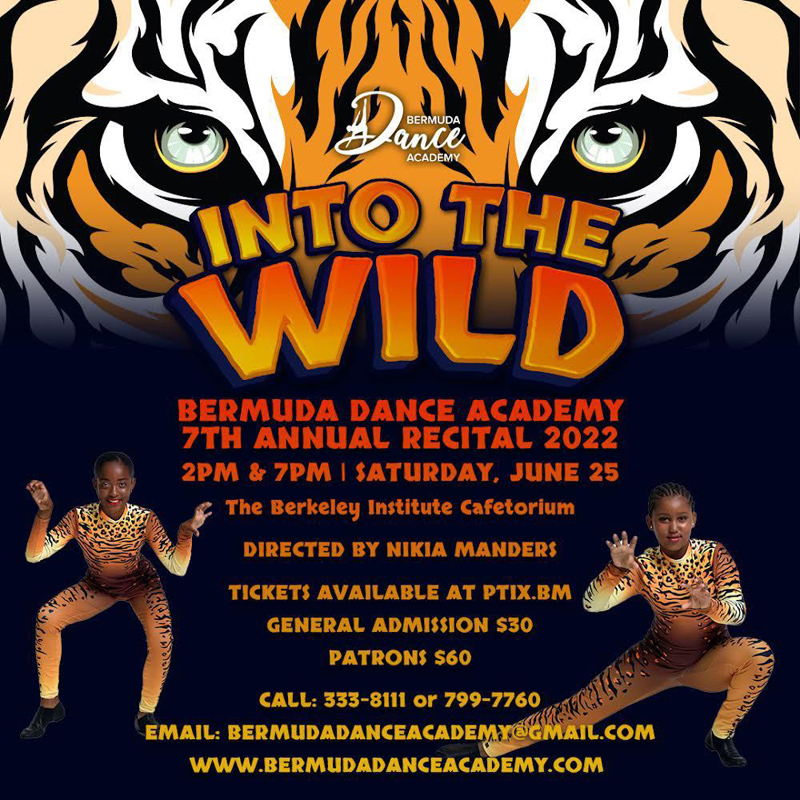 Read More About
Category: All, Entertainment