Minister of National Security Michael Weeks visited the Clarence W. Davis Training Centre at Ferry Reach last week to thank eight recruits who are training to become full-time prison officers.
A Government spokesperson said, "The officers, consisting of seven men and one woman, are currently in the ninth week of a 12-week training course that includes instruction in every component they will need to become successful and proficient officers."
Divisional Off. Daron Harvey, Divisional Off. Marvin Trott, Off. Shentoine Lambert [back], Chief Off. Shannon Hollis, Off. Kimberly Govia [back], Off. Adrian Charles, Off. Blair Bean-Walls [back], Minister Weeks, Off. Jamel Thomas, Acting Divisional Off. Juan Looby [back], Off. Jashun Thomas, Off. Sidney Mello, and Off. Adrian Kellyman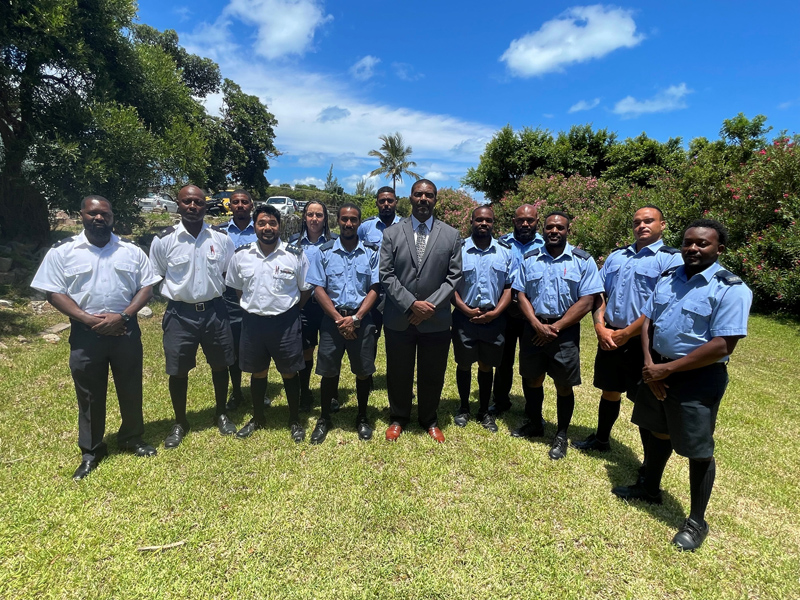 "The last such training course took place in 2018. The training covers legislation such as the Prison Act 1970 and Criminal Code Amendment Act 2001, among other legal statutes.
"In addition, the recruits will receive instruction in security in a correctional facility, fire safety and the effects of incarceration, among other technical subjects."
"The trainee officers, who are set to graduate from the programme at an upcoming date, underwent a lengthy process to qualify for the training, which generally can take between six to eight months."
Minister Weeks said: "I visited the CW Training Centre at Ferry Reach to observe the new recruits for the Department of Corrections.
"I wanted to encourage them and let them know that they are valued and will play an essential role in our quest for rehabilitation. It was important for me to welcome them aboard personally."
Minister Weeks added: "Serving as a Corrections Officer is a rewarding career, and I commend these men and women for stepping up to the plate and answering the call to duty.
"Serving as a Corrections Officer isn't just a job. It is a career journey that can change not just your life but the lives of inmates as well. The work of these men and women is essential to the community, and I wish them well at the start of their new careers."
Read More About