On July 11, 1612, English settlers arrived in Bermuda on a ship called 'The Plough' and established the Town of St. George, and in honour of the 410 anniversary of that event, St. George's will have a series of events throughout the afternoon of Monday, July 11.
A representative of the St. George's Stakeholder Committee, a group of business owners who have organised the event, explained, "'Plough Day' was an annual event between 2012-2014, but has not been held since. We are excited to revitalise this event and host other cultural activities as part of our ongoing efforts to improve on what people experience when they come to St. George's."
The representative said that "months ago, the group prepared a plan to beautify the town and to host cultural events and shared this plan with numerous bodies and government leaders. The committee was recently awarded funding support from The Bermuda Tourism Authority and The Bermuda Economic Development Corporation. The Corporation of St. George is also providing support for new reenactments which are being developed by Cirqle Circus and Long Story Short.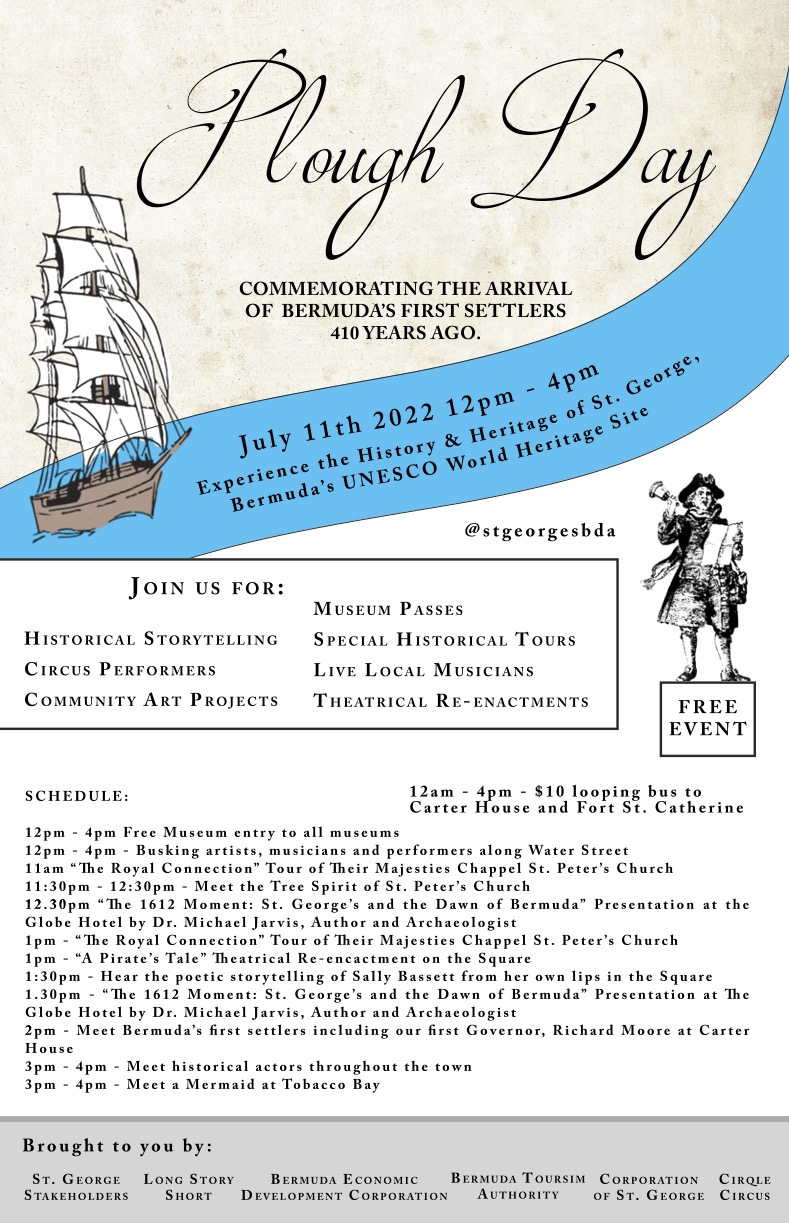 "'Plough Day' will kick off their 'Heritage Festival' series, which will be held on Monday and Thursday afternoons throughout the summer. Highlights of the July 11 'Plough Day' event include:
Free Access to Historic Sites between 12-4pm [donations welcome!]

Bermudian Heritage Museum
Carter House Museum and Settlers' Cabben
Fort St. Catherine
Globe Hotel Museum [Bermuda National Trust property]
St. George's Historical Society Museum at Mitchell House
Their Majesties Chappel, St. Peter's Church
Tucker House Historic Home and Museum [Bermuda National Trust property]

Special Presentations at Bermuda National Trust's Globe Hotel Museum by visiting author and archaeologist, Dr. Michael Jarvis
'The Royal Connection' Tour at Their Majesties Chappel, St. Peter's Church
Musicians, Artists and Tarot
Historic Characters and Storytelling
Special Activities at Stores and Restaurants
"There will also be a $10 shuttle providing transportation to Fort St. Catherine and Carter House Museum in St. David's, to ensure people are able to visit those important historic sites. See the full schedule on the poster of events.
"As Bermuda's UNESCO World Heritage Site, it is important for us to promote and celebrate the incredible history of our town and also be a modern, vibrant place.
"So as we planned the events we wanted to make sure that there is something fun and interesting for all who visit St. George's, including Bermuda residents from other parts of the island, summer camp students, and tourists. We hope everyone will spread the word and come to the East End for these special events."
"In addition to events, the group has been taking on some much-needed aesthetic projects around the town. Although we'd love for landlords to address their derelict properties, newspapered and boarded up windows and other eyesores, we can't force someone to improve their space, so we are tackling what we can, in areas where we've been granted permission and access. Using our own creativity, volunteer effort and now with the funding pledge we've received, we have a number of initiatives underway, including public art, greenery, painting, shading and signage."
"The St. George's Stakeholder Committee welcomes your support. For more information, this volunteer committee can be contacted at stgeorgesbermuda@gmail.com. The Town of St. George is a true gem and we are proud to be working collaboratively and ensuring people can experience what makes our town so special."
Read More About
Category: All, Entertainment, History, News