The Bermuda Public Services Union [BPSU] recently hosted its 30th annual Education Awards Ceremony, presenting 18 students with education awards.
A spokesperson said, "On Friday, July 22, 2022, under the leadership of President Bro Armell Thomas, General Secretary Bro Kevin Grant and the Education Committee Co-Chairs Sis Lauren Bell and Sis Linda Bogle-Mienzer, the Bermuda Public Services Union [BPSU] hosted its 30th Annual Education Awards Ceremony.
"Reflecting the BPSU's ongoing commitment to provide educational opportunities for members and their dependents, the Union has annually granted scholarships for local, online and overseas study. Since the inception of this initiative, the value of these education awards has totaled over $755,000.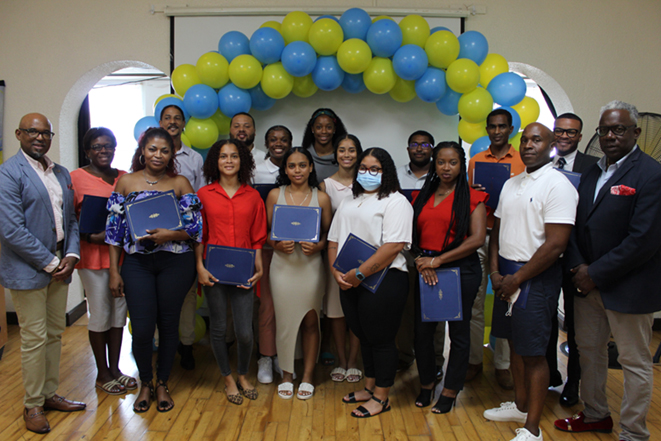 "Typically, each year the BPSU grants twelve awards, however, in recognition of this 30-year milestone, the BPSU Education Committee increased the number of awards to eighteen. This included nine local/online awards valued at $1,500 each and nine overseas awards valued at $3,500 each.
"The BPSU was honoured to grant BPSU education awards to the following:
Local/Online Recipients
Van Dyke Bean – Portobello Institute
Rickai Burrows – Mount Saint Vincent University
Joseph Christopher – Athabasca University
Christine Joell – Mount Saint Vincent University
Marcelle Lawrence – University of Toronto
Dejhi-Anne McKoy – Walden University
Tiphani Philip – University of Essex
Selay Simons – Bermuda College
Chynna Trott – Southern New Hampshire University
Overseas Recipients
Keturah Bulford-Trott – University of Maryland
Jada Dean – Florida International University
Elijah Grigsby – Virginia Polytechnic Institute and State University
Jonathan Jervis – The University of Law
Jenesis McCallan – Gardner -Webb University
Elena Sanchez – New York University
Yve Smith – Western University
Layla Williams – Emerson College
Alnique Young-Looby – Gordon College
"The BPSU congratulates all recipients and wish them much success in their future."

Read More About