"Regarding Bermuda's economic performance, I am pleased to report that in the 1st quarter of 2022, Bermuda's economy continues its positive trend, supported by the rebounding of tourism and strong consumer spending," Minister of Economy and Labour Jason Hayward said.
1st Quarter GDP and Economic Performance
The Minister said, "After adjusting for inflation, real GDP increased by 3.9% during the first quarter of 2022 and represents the fourth consecutive quarter of year-over-year economic growth.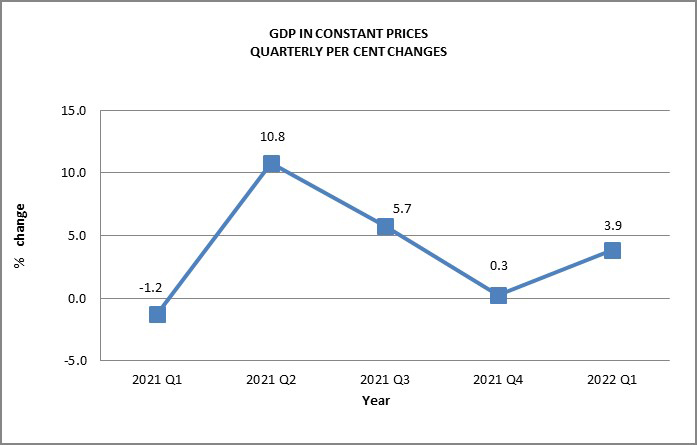 Consumer Spending
"Contributing to the economic expansion of the economy was a 2.7% rise in consumer spending in the first quarter compared to the previous year.
Employment Income
"Employment Income for the first quarter was 6.2% above the 2021 level. Industries such as Hotels and Restaurants, Transport, Communications and International Business reported strong growth in employee remuneration.
Tourism
"Tourism arrivals and expenditure were up as Bermuda's tourism industry re-opened for leisure and business visitors. The island hosted 12,280 air visitors during the first quarter of 2022, up from 3,423 in the first quarter of 2021. This sector saw a $17 million [306.4%] improvement in air visitor spending over last year. In addition, hotel gross receipts for the first quarter were $39 million [198.1%] above 2021 levels.
Government Expenditure
"In addition, consumption by the Government increased by 2.3%, with higher expenditure on materials, supplies and insurance payments.
Business Investment
"Despite the general upward trend in growth, business investment in capital goods contracted by 2.4% due primarily to a reduction in the importation of machinery and equipment like furniture and motor vehicles and the decline in the value of construction year-over-year.
1st Quarter Balance of Payments
"Bermuda's trade in goods and services with non-residents resulted in a $334 million surplus for the first quarter of 2022, increasing $34 million from a year ago. Bermuda increased its foreign exchange earnings from the exports of services related primarily to transactions in business, accounting and insurance services. However, some of this growth was tempered by imports, such as fuel, and increased payments for services, such as air passenger transport and freight transport services.
1st Quarter International Investment Position or IIP
"At the end of the first quarter of 2022, the value of Bermuda residents' stock of foreign assets registered above its stock of foreign liabilities. Bermuda's stock of foreign assets exceeded its stock of foreign liabilities by $6.1 billion, the net IIP increased by $1.4 billion over the fourth quarter of 2021.
Business Registration
"Total business registration slipped by 0.8 per cent compared year over year, bringing the complete business register to 16,038. There were 266 new businesses registered in Bermuda during the first quarter of 2022, a decline of 17.1 per cent from the previous year.
Economic Policies
"While general economic performance is good news, we must continue working together to sustain Bermuda's economic growth and increase the number of available jobs. To that end, I am also pleased to advise that further progress has been made on the Economic Recovery Plan [ERP].
"As many will know, Bermuda's ERP aims to produce jobs, increase GDP and, combined with other measures, lead us to a sustainable future. The 31 policy initiatives under the ERP are prioritised to focus on areas with the highest impact on Bermuda's medium-term economic growth and employment.
"The four lead initiatives under the ERP include the following:
1. Rehabilitation of the Tyne's Bay infrastructure;
2. Development of Uptown Northeast Hamilton;
3. Development of a Casino industry; and,
4. Development of Vertical Farming.
"Detailed action plans for each of the four priority initiatives were completed in April, and stakeholders have continued the work required to move these initiatives forward. To successfully implement the thirty-one initiatives under the ERP umbrella, the Government committed to establishing a dedicated Project Management Office or PMO.
"The PMO started its function on 1 June 2022 to ensure the successful implementation of all the initiatives under the ERP. Their responsibilities include working to monitor, track, report and lend assistance where required while placing significant emphasis on the four lead policy initiatives.
"The Ministry of Economy and Labour Ministry is pleased to advise that the July 2022 status of all 31 ERP initiatives has been updated on the ERP webpage at gov.bm/economicrecovery.
"While this is welcome news, I must point out that the Government is not only working towards implementing the Economic Recovery Plan. In support of the Government's economic development strategy, other entities are responsible for the execution of critical components.
"The Bermuda Business Development Agency continues its focus on attracting businesses in the areas of Asset Management, Climate Risk Finance, High Net-Worth Services, Infrastructure, Insurance and Risk and Technology to Bermuda.
"The Bermuda Economic Development Corporation supports new and existing businesses with education, guidance, advocacy, networking and financing. The organisation's key objective remains to assist the Government in encouraging economic growth for Bermuda's local small and medium-sized businesses.
"The Economic Development Department is active on several fronts in pursuit of its mission "to advance the sustainable growth, development, and diversification of Bermuda's economy." To achieve that, the Department will:
Facilitate, create, and implement policies to support the Economic Recovery Plan;
In collaboration with industry stakeholders, position Bermuda as an ideal test market for innovative product and industry development; and
Identify, develop and implement policy and legislative initiatives that generate industry confidence.
Conclusion
"While the Government continues to facilitate the expansion and sustainability of Bermuda's economy, we also recognise the critical role of employers, business owners and consumers alike. The current economic trends show promise for an environment that encourages economic growth while providing opportunities for Bermudians.
"For more detail on today's information, the 2022 Q1 Balance of Payments & International Investment Position and the Quarter 1, 2022 Quarterly GDP by Expenditure publications are available at the Department of Statistics on gov.bm."
Read More About