[Written by Stephen Wright]
A bikini calendar has been launched to encourage women to feel "confident, smart and sexy" with part proceeds donated to charity.
The Bermuda Baddie 2023 Calendar is the brainchild of Ika Lovell, the owner and founder of AllStar Calendars.
Ms Lovell said the idea behind the calendar, which she also appears in as a model, was to encourage women of all shapes and sizes to love and accept themselves.
"It's very important women love ourselves as we are and create positive thoughts about our body image," said Ms Lovel said.
"We come in different shapes and sizes, have different complexions and hair textures, and that's OK. Women can sometimes be mean to each other, and I want to encourage women's empowerment and unity.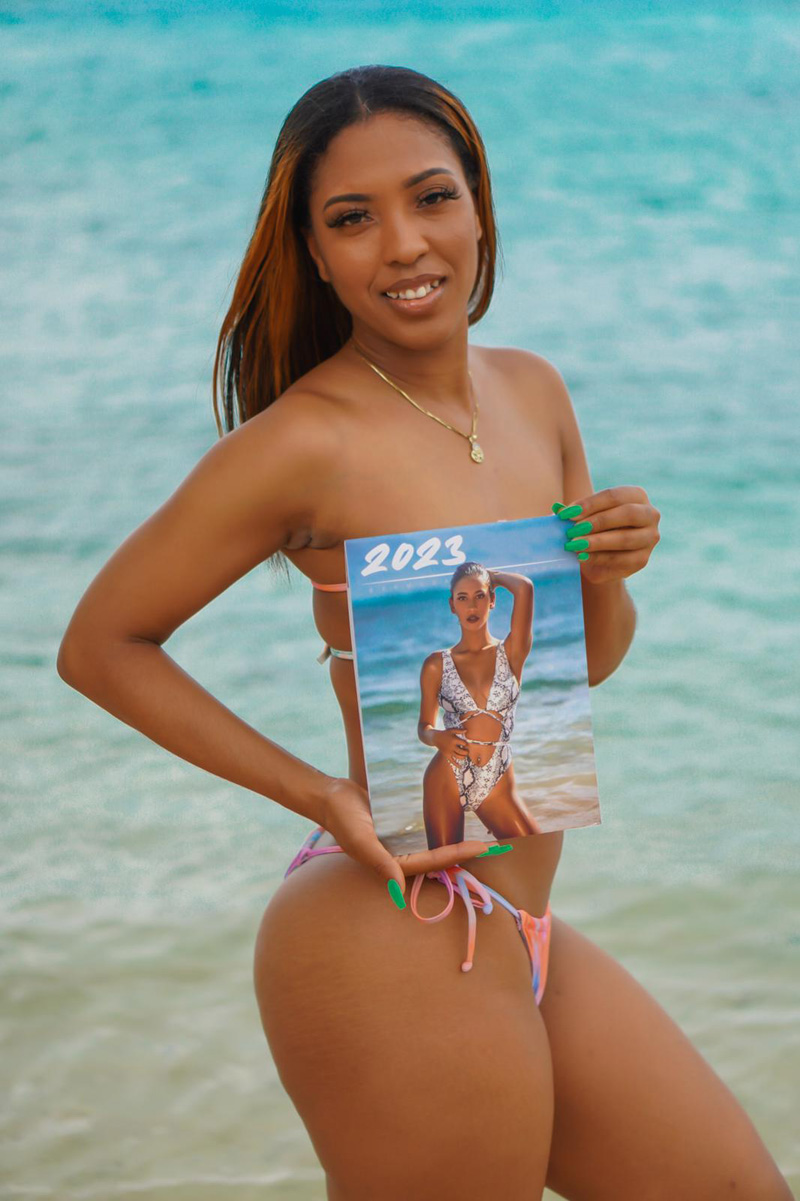 "We should all self-love ourselves and create an environment where we all feel comfortable in our skin and how we look. We should all feel confident, beautiful and sexy, regardless of outside opinions."
Ms Lovell, who has modelled since she was 19, said the calendar features Bermudian models with photographs taken at Daniel's Head Beach and Park, Blue Hole Park, Grotto Bay Beach Resort and Spa, Cambridge Beach Resort and Spa.
"I went into the project blind and with no experience," she said. "I did a lot of studying and research. I had to figure out a lot on my own. It's great to have a final product and to be able to promote it.
"We live on a beautiful island with iconic beaches, so it made sense to be a swimwear calendar."
The calendar, costing $50, with $5 donated towards the Women's Resource Centre and $5 towards Bermuda Cancer and Health Centre, features images taken by Eric Bean, the main photographer, Voorhees Joell and Trae Cannonier.
NealJhay Morris served as creative director and McGinger Design and Lab as the graphic designer.
"I wanted to get into the directing side of modelling to help me develop as a person," said Ms Lovell, who works as a barista at Devil's Isle Café.
"It was great to put together a team, direct people and instruct."
The calendar is available at Devil's Isle Café, The Bookmart at Brown & Co, Snorkel Park in Dockyard and on Instagram @bermudabaddie_ and Facebook @Bermudabaddie. For more details contact info@allstarcalendars.com.

Read More About
Category: All, Entertainment, News, Style & Beauty