There were 3,297 offences recorded in Bermuda in 2020, with the report from the Bermuda Police Service noting that decreases in certain "categories may have been due to Covid-19 regulations being in place, that minimised social gatherings and the potential for suspects and victims to be in proximity."
Chart extracted from the report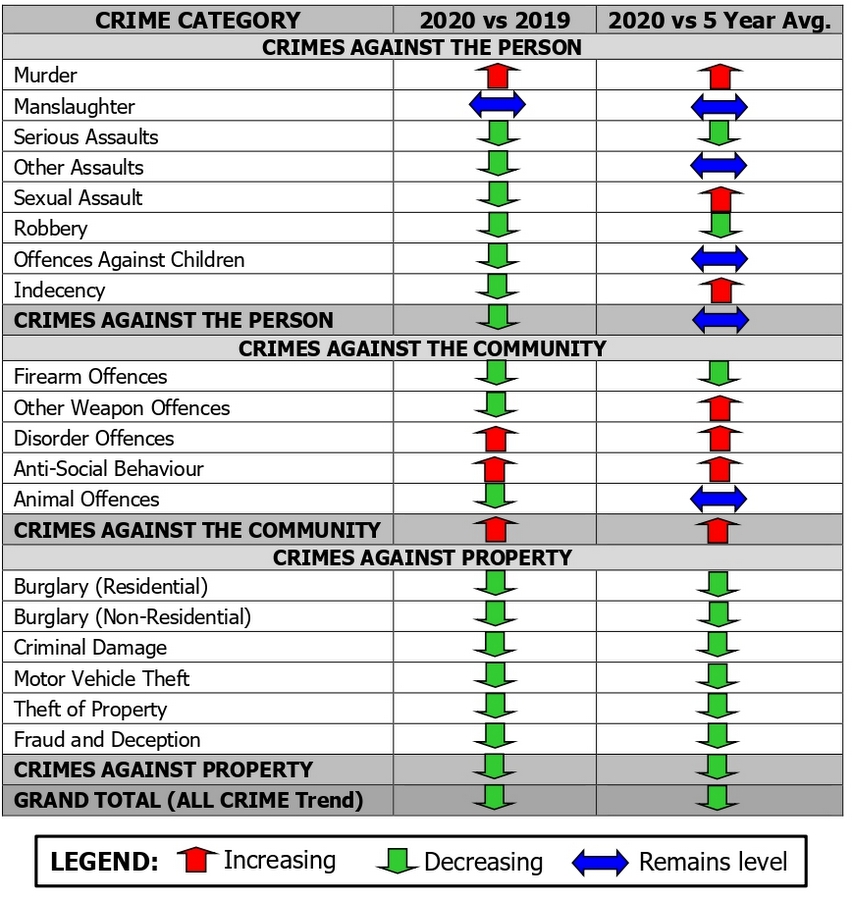 The BPS report said, "There were 3,297 offences recorded in Bermuda in 2020, a decrease of -50 or -1.5% compared to the 3,347 offences in 2019. The 3,297 offences in 2020 is the 2nd lowest offence figure by year, since comparable records in 2000. 2017 was the lowest year for offences since 2000, with 3,202 offences.
"Comparing 2020 to 2019, recorded offences decreased in Crimes Against The Person [741 - 639], and Crimes Against Property [2,068 - 1,741], yet increased for Crimes Against The Community [538 - 917]. This increase of +379 was mainly from the 316 Covid19 regulation breaches, included in Anti-Social Behaviour, that will be examined later. In 2020, there were 7 murders [2 from firearms], and 10 persons were shot and injured.
"When comparing 2020 with 2019, Crimes Against The Person decreased from 741 to 639 offences. Year on year decreases were recorded in every category, except murder where 9 offences were recorded, compared to 2 in 2019. Decreases in all the other categories may have been due to Covid-19 regulations being in place, that minimised social gatherings and the potential for suspects and victims to be in proximity.
"Of the 52 Firearm Incidents recorded in 2020, 25 were Confirmed Firearm Incidents, 10 were Recoveries of Firearms and/or Ammunition and 17 were Unconfirmed Firearm Incidents."
The full BPS Official Statistics Report 2020 follows below [PDF here]:
Read More About