[Written by Stephen Wright]
Tomorrow's Voices will host its annual paint night to raise funds for its autism centre.
The Fourth Annual Great Sip & Paint for Autism Fundraiser will be held at Tomorrow's Voices' new facility at TN Tatem in Warwick on Sunday, August 28.
It will be the first time in two years people can attend the event in person, with the past two fundraisers held virtually because of the Covid-19 pandemic.
Organisers are hoping for 125 to 150 people to attend the event, which will challenge participants to paint their autism-inspired masterpieces while being entertained by the sounds of DJ Fury.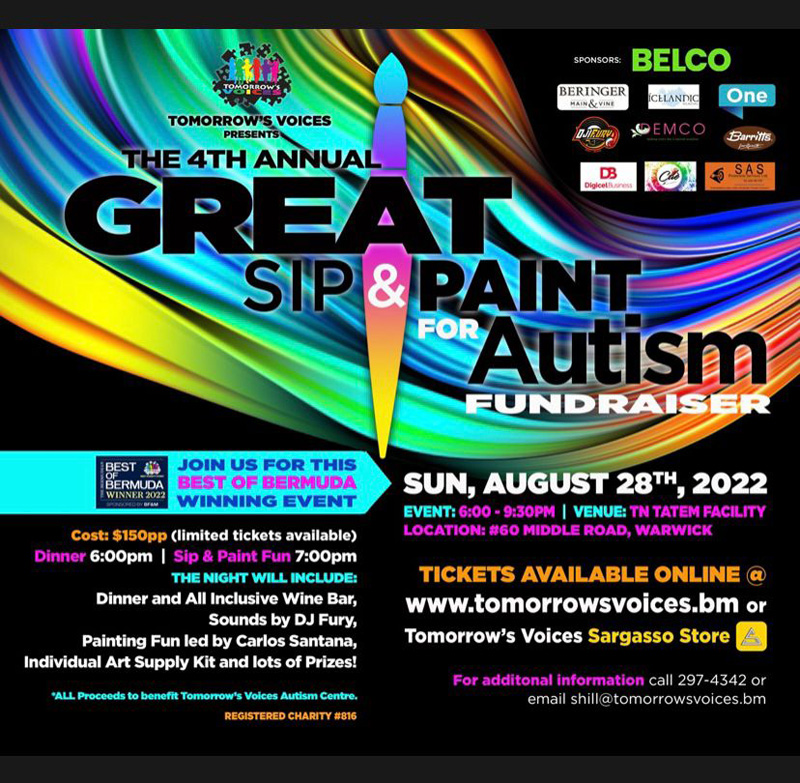 Local artist Carlos Santana will also be on hand to share his knowledge and advice with participants.
The event runs from 6 to 9.30 pm and attendees must be over 16 years old.
Stacy Hill, the Tomorrow's Voices funding and development officer, said the event is ideal for families, birthdays and groups of friends.
"We're excited to return to a live event this year," Hill told Bernews.
"We provide autism-inspired paintings, and each person will get to choose one of the pictures and duplicate it as best they can.
"The international logo for autism is a puzzle piece, so the pictures will always be incorporated with a puzzle, whether it's a sky or beach scenery.
"Not everyone is an artist, but it's about creating something you enjoy, being around friends and supporting the event."
The fundraiser costs $150 per person and includes dinner and an unlimited bar sponsored by Burrows Lightbourn Ltd.
Tickets are available online at www.tomorrowsvoices.bm or Tomorrow's Voices Sargasso Store.
Read More About
Category: All