Filming is underway in Bermuda for Transforming the Beautiful Game, The Clyde Best Story.
A spokesperson said, "Filming is underway in Bermuda this week for Transforming the Beautiful Game, The Clyde Best Story. This feature-length documentary will delve into the history of racial discrimination in the English Football League through stories of the life and career of Bermudian football legend Clyde Best.
"The interview lineup includes the footballer himself and some of his original Somerset Village teammates, such as former Speaker of the House Randy Horton and Clarence Symonds, and younger football players who were influenced by Best, such as the National Team Coach Kyle Lightbourne.
"In addition, West Ham United Football Club Historian and author Tim Crane is on the island to provide insight into Best's influence on the club and professional football in England.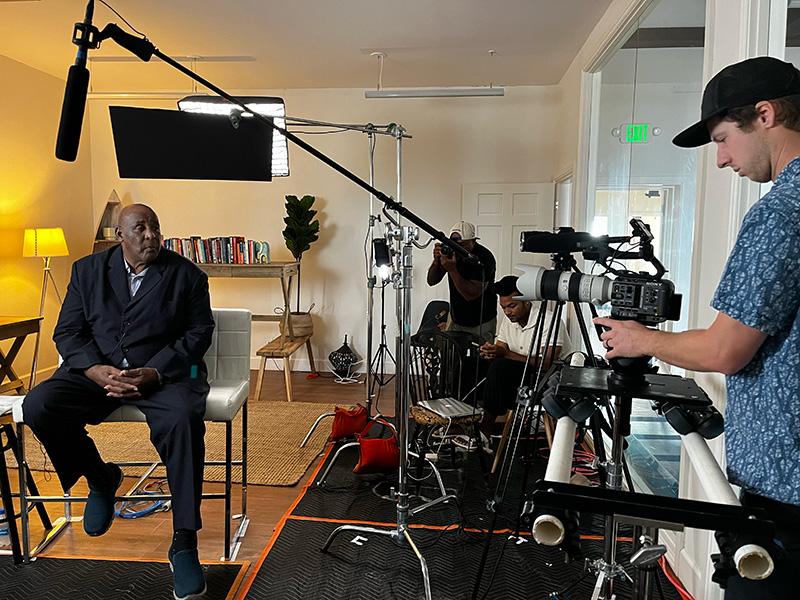 "These Bermuda interviews will be combined with international football legends, including one of the greatest players of all time, Pelé, and English player and coach, Harry Redknapp. Overseas interviews kicked off last month with one of Best's teammates at West Ham, Ade Coker, who went on to become an international player for the USA.
"Coker and Best were part of a historical football moment in 1972 when alongside Clive Charles they were selected to play against Tottenham Hotspur Football Club. This was the first time that three black players were included in the lineup to play on the same team in a professional football match in England."
Director Dan Egan said, "We are very excited to be filming interviews with a big roster of Bermudian talent, Clyde's family and friends, and cultural influencers.
"I expect this week to be very insightful, inspirational, and quite emotional. As we hear stories of Clyde's past and listen to the inspiration he has had on others we feel the massive cultural impact he left in the United Kingdom and the world by overcoming the unrelenting issue of racism in the sport."
Best's older brother Carlton summed up his brother's achievements in his interview on Monday, "Clyde seemed to be born for his journey to be the first black player at the top division in English football and to play with the greats of the game, such as Bobby Moore and Sir Geoff Hurst, it's a long way from the small island of Bermuda, but he done it."
The spokesperson said, "If any person or business would like to get involved and support this project, more information on donations can be found on the website."

Read More About
Category: All, Entertainment, Films/Movies, News, Sports