The Bermuda Football Association [BFA] is showing their support for the upcoming documentary Transforming the Beautiful Game, The Clyde Best Story by donating the gate receipts of the Charity Cup this Sunday [Sept 3].
A spokesperson said, "The Charity Cup kicks off the first game of the football season and will see teams Pembroke Hamilton Club [PHC] and North Village Community Club [NVCC] battle for victory at Devonshire Recreational Club."
Clyde Best looks out over Feyenoord Stadium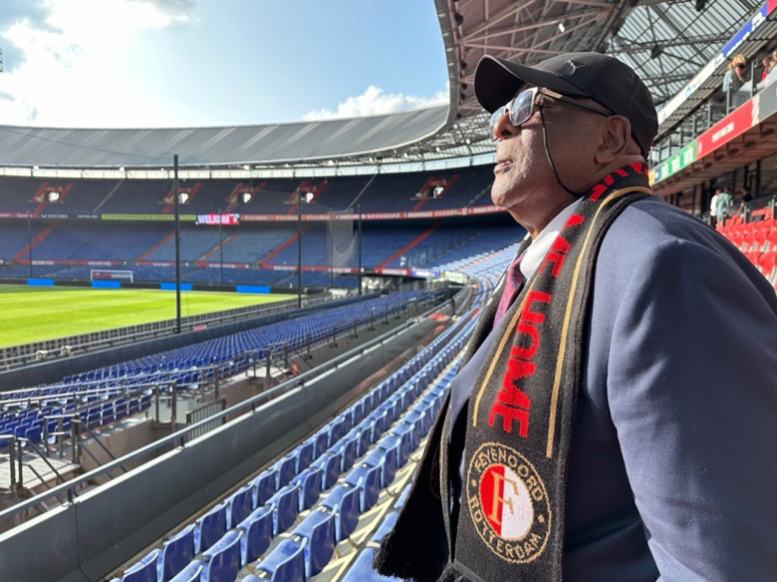 President of the BFA, Mark Wade says, "The Charity Cup kicks off the 2023/24 season. Fans have been waiting all summer for football to return. The North Village Rams and PHC Zebras will put on an entertaining match. I cannot think of a better way to start the season or a better cause to support."
"We believe the project is important as it will document the life of one of our Legends, Mr. Clyde Best. Fans will be entertained and now become stakeholders in this documentary."
The spokesperson said, "The donation from the BFA is very timely as the documentary prepares to film two very important scenes on-island this September. Brendon Batson, the only surviving member of the famous 'Three Degrees' and a football legend in his own right, will be in Bermuda to reunite with Best. In this scene, the two will engage in insightful conversations about their individual roles and experiences in breaking the colour barrier in the Premier League in the 1960s and '70s.
"An exciting re-enactment of Clyde's early days as a player for Island Rangers will also be filmed using Bermuda's football talent of today as the actors. The legendary Bermudian coach Eddie 'Icewater' Smith will be playing himself in the scene that depicts a time in the early 1960s when sailors from the United Kingdom would play football with the island boys. These games became an important foundation for Clyde to learn British-style football and later helped him in the PANAM Games where he played for Bermuda and won a silver medal.
"Puma will be sponsoring this iconic scene, which is a testament to the longstanding relationship between Clyde Best and the sports brand. In 1969, when Best played for West Ham he was the first professional football player in the United Kingdom to be sponsored by Puma.
"In the spring of this year, Best travelled to England and Holland to visit his old stomping grounds of West Ham and Feyenoord Rotterdam for the documentary. He was recognized in front of 65,000 fans at West Ham's home London Stadium, and the likes of Rio Ferdinand were lined up to get a photograph with him. In Rotterdam, he was honored at the Club's stadium by fans and former teammates.
"If any person or business would like to get involved and support this project, more information on donations can be found on the website www.ClydeBest.com."

Read More About
Category: All, Entertainment, Films/Movies, News, Sports