Tomorrow's Voices announced its Senior Verbal Behaviour therapist, Dr Jahnae Harvey, recently obtained a second Master's degree, her Master of Philosophy [MPhil], and Doctor of Philosophy [PhD] in Developmental Psychology from Walden University.
A spokesperson said, "Bermudian Dr Harvey, who is a Board Certified Behaviour Analyst-Doctorate [BCBA-D], has been a part of the Tomorrow's Voices Bermuda Autism Early Intervention Centre team since 2015 after her university internship opportunity with Tomorrow's Voices in 2014.
"With the aim to be a part of the internationalization of the field of psychology and the desire to continue to engage in professional development, Dr Harvey began her journey to obtain a PhD in 2019. Using archival data from Tomorrow's Voices, she focused her dissertation on skill acquisition and maintenance of novel reinforcers for individuals diagnosed with autism. The paper, entitled 'Stimulus Pairing to Condition Novel Reinforcers for Bermudian Participants with Autism,' is now available for anyone looking to research the topic as it is published in the ProQuest research database."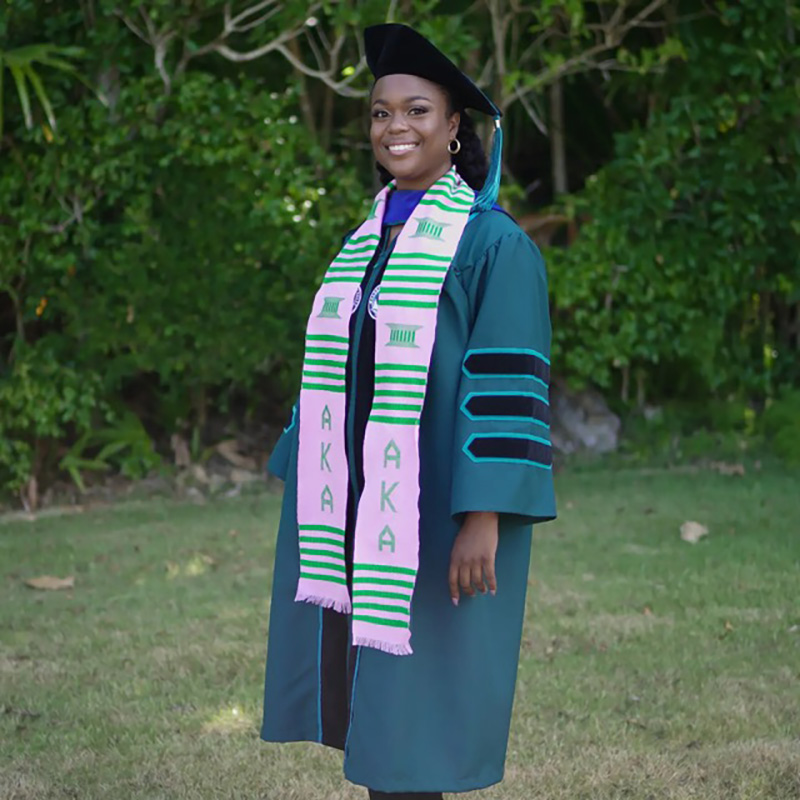 Dr Harvey said, "Continued education is something we always value at Tomorrow's Voices. As we continue to engrain that in all the therapists here, I make sure that I instill that in myself. In addition to my continued education to keep my licensure as a board certified behaviour analyst I felt that it was important to seek higher education."
The spokesperson said, "Once Dr Harvey completed her coursework she moved on to her dissertation where she was able to analyse Bermudian-centred archival data from Tomorrow's Voices which is a recognised medical centre.
"One of the main things in conducting and analysing this research was the importance of culture and understanding that Bermuda is a very social culture."
Dr Harvey said, "I had to take this cultural element into consideration with the fact that individuals diagnosed with autism may find socialization and social skills difficult. It was eye opening to specifically explore the Bermudian culture while comparing cross-cultural research. This experience highlighted that everything we do here at Tomorrow's Voices relies on current research to ensure that we are using evidence-based strategies.
"By exploring the Bermudian culture, this study aids in the internationalization of research and the field of psychology, which is important.
"It was great to be able to publish the document at the dissertation level, so that individuals can read not just about the study, but also read a little bit about Bermuda's history regarding the development within the realm of autism, autism service provision, and its growth within Bermuda. Moving forward, this publication can serve as a Bermudian article which can provide insight on the cultural dynamic of Bermuda and Bermuda's population.
"This study can also help grow awareness of the population of autism in Bermuda, as well as service provision and the effectiveness of certain service provisions."
The spokesperson said, "Dr Harvey added that she is grateful to the support from her family and the entire team at Tomorrow's Voices as she worked through her degrees over the past three years as well as continuing to work full time at the Centre and being a full-time mother.
Dr Harvey said, "Tomorrow's Voices is an environment that fosters ongoing education to a point that it be-comes second nature. As a result, ongoing education is not something that I have to con-sider or think about pursuing, it is something we do every day. Every day we're researching, every day we're engaged in professional development workshops and opportunities. Every day is an educational experience. The next step was natural.'
Tomorrow's Voices Co-Founder and Board Chair, Thea Furbert, said, "I am extremely proud of Dr Harvey for her continued efforts to grow professionally! Since starting her career at Tomorrow's Voices, she has always shown a determination unlike anything I've ever seen and receiving this additional master's as well as her Doctorate is a testament to that.
"If Dr Harvey puts her mind to something, she goes after it and doesn't stop until it's achieved. She is a fine example of Bermudian excellence. On behalf of the Board of Director's, our staff and our parents and caregivers, I congratulate Dr Harvey on this momentous achievement."
The spokesperson said, "Tomorrow's Voices is the only charity in Bermuda that provides 1:1 clinically recommended therapy based on Applied Behaviour Analysis [ABA]. For further information about Tomorrow's Voices, call 297-4342 or email info@tomorrowsvoices.bm."
Read More About