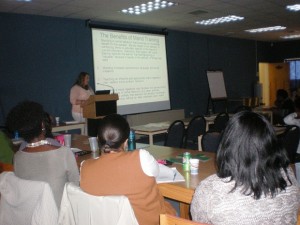 Dozens of teachers and parents convened at the Bermuda College on Wednesday, 13 April, 2011 to participate in an Applied Behavior Analysis (ABA) in the classroom workshop.
The workshop was facilitated by Marietta N. Janecky, BCaBA of the world renowned Carbone Clinic. Ms Janecky started out as an instructor in 2004 and in 2007 began working as an OutReach consultant. She possesses a wealth of experience in a variety of areas including parent and teacher training, presenting workshops, research and staff training.
She has worked with a host of educational programmes and schools worldwide. During this exciting and interactive workshop at the Bermuda College, participants were taught how to utilise techniques and ideas which will help bring out the best in an autistic child in a classroom or home setting.
The following feedback was received by a few of the participants: "This workshop provided practical information that will improve a variety of techniques and procedures in the classroom that relate to behaviour problems."
"This workshop was very effective for the various teaching steps with children that need one-on-one in the classroom."
"This workshop has been an eye opener. It has helped me to rethink how to reach students in my class with special needs."
The workshop was approved by the Bermuda Educator's Council for professional development credits.
Read More About
Category: All