Bermuda Autism Support and Education (BASE) says the response to its free autism workshop for educators on Monday was overwhelmingly positive and the organisation will be offering a second free workshop next week.
Some 40 educators attended the workshop, Supporting Students on the Autism Spectrum in the Classroom, run by BASE Autism Consultant Susannah Cole at Bermuda College on Monday. The workshop was made available to help education professionals meet their required amount of professional development (PD) hours for Bermuda Educators Council (BEC) relicensing.
Ms. Cole said she was delighted with the response and the active participation of teachers during the workshop. "The training offered educators practical strategies and tools to work with individuals on the autism spectrum. Several participants noted that the training should be mandatory for all educators because it highlighted the specific needs of students on the autism spectrum and provided useful strategies that can be implemented right away in the classroom. Participants left the training excited about implementing the strategies they learned with all students, not only those on the autism spectrum."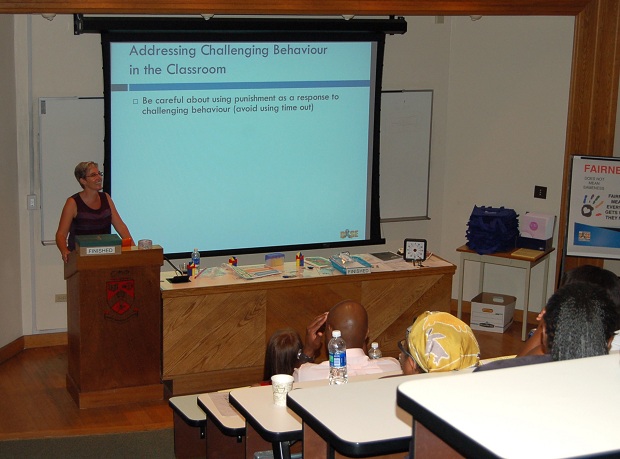 Response from participants was overwhelmingly positive. Some of the direct quotes from participant feedback forms included:
"Everything I learned today can be used not only for children with autism, but also for those with other disabilities."
"The information given was something I can use the up-coming school year."
"The presenter was very clear and enthusiastic. She provided great examples and kept us interested throughout the day."
"I enjoyed the lively presentation, which was very helpful to me as a parent and educator."
"I thought the workshop was very succinct yet informative and presented in a way that encouraged the group to share successes and challenges."
The free full-day workshop will be repeated next week for all Learning Support professionals and paraprofessionals. It will be held on September 2 at T.N. Tatem Middle School (60 Middle Road) in the auditorium from 8:30 a.m. to 3:00 p.m. Certificates will be provided for five professional development hours. Complimentary coffee/tea breaks with pastries will be provided. Anyone interested in participating in this professional development opportunity should contact their school principal indicating their interest. BASE will contact principals to confirm registration.
For more information on next week's workshop contact Susannah Cole at 534-0306 or scoleconsult "at" gmail.com
Said Ms. Cole: "Without an understanding of autism, education professionals cannot be expected to know how to adjust the curriculum and school environment to ensure that school is a positive learning environment for all students including those on the autism spectrum. This course will show how these adjustments can be very straightforward and simple to make. Students on the autism spectrum respond positively to highly structured and predictable instruction that builds on their individual strengths and interests. Participants will be introduced to tools and techniques to effectively support students on the autism spectrum within the classroom."
Read More About