[Written by Stephen Wright]
Olympic medallist Noah Lyles says he has "fallen in love" with Bermuda and will host his End-of-Season Bash on the island next month.
Lyles, who ran the fastest 200 metres in American history to retain gold at the World Athletics Championships in Eugene, Oregon, in July, has become a regular visitor to the island, competing at the USATF Bermuda Games in April, finishing third in the 100 metres final.
The 25-year-old will return to Bermuda for his annual end-of-season party, a fundraiser for the Lyles Brothers Sporting Foundation, from October 21 to 23,
The non-profit organisation, which Lyles runs with his brother Josephus Lyles, also a sprinter, empowers youth through health and wellness in the community.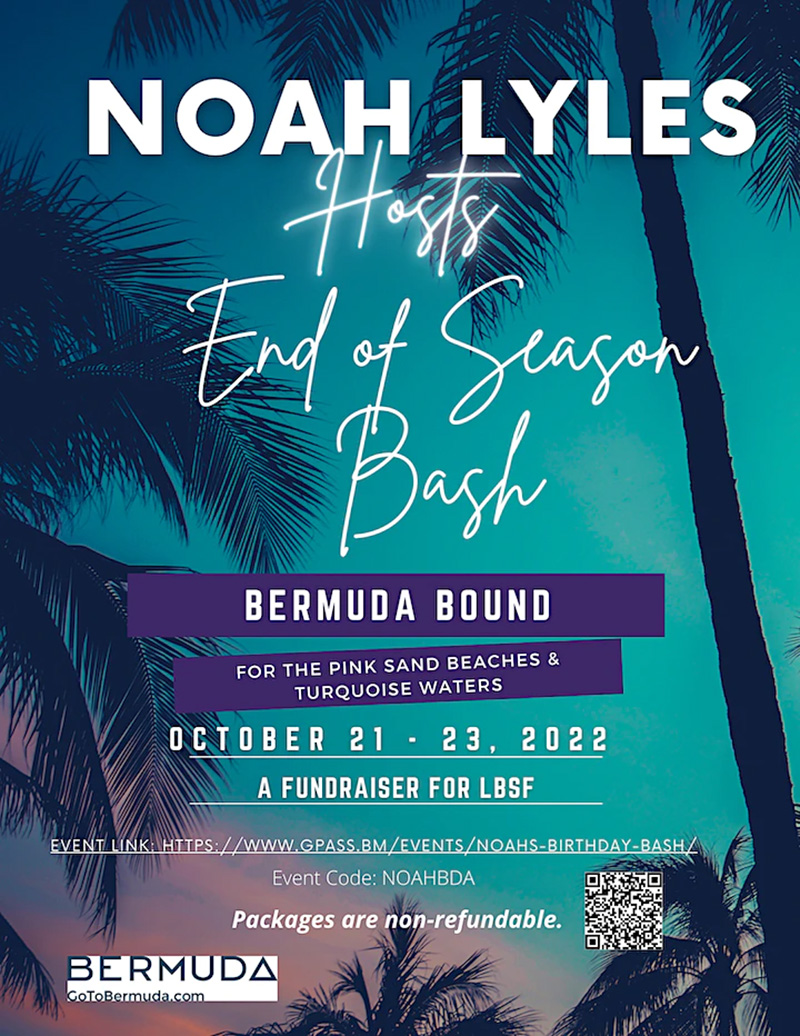 "I've been hosting end-of-season bashes for about five years," Lyles told Bernews. "I started moving my parties to September or October because my birthday [July 18] falls when I'm competing.
"Last year was my biggest. We rented out a small club in Miami and invited many friends. We hired a DJ, had an open bar, and didn't have to worry about the outside world and the media."
Lyles said a conversation with Hazel Clark, the Bermuda Tourism Authority director of global sales and business development, convinced him to hold his upcoming party in Bermuda. Clark, a three-time Olympian for the United States, is a close family friend of the Lyles.
"I was talking to Hazel about what I could do differently with my party this year, and she said, 'Why don't you have it in Bermuda?'" said Lyles, who won bronze in the 200 at the Olympic Games in Tokyo last year.
"Hazel said we could run it alongside the Bermuda Black Golfers Week. I liked that idea a lot.
"Bermuda is a fun place, and I love visiting the island. I've been twice for vacation and once to compete. I've fallen in love with the place."
Lyles said he hopes plenty of locals attend the events and help turn his belated birthday celebrations into a memorable occasion.
The itinerary includes a Champions Conversation and Dinner and the End-of-Season Private Party at Snorkel Park on Friday, October 21, a Mimosa Sip and Sail Cruise on Saturday, October 22, and Beach Day on Sunday, October 23.
"I might be bringing in a lot of friends and family, but I open up this end-of-season-bash to the public," he said.
"I want to have a good time and like to share my energy. Don't be afraid to ask for a picture!"
Clark said Lyles has become an "ambassador" for Bermuda in the US, promoting the island whenever possible, and was thrilled he had chosen to host his party on the island.
"The BTA is supporting in delivering some of the events," Clark said, "Noah has brought so many people to the island, family and friends, and we're so appreciative.
"Noah could have gone anywhere for his party, but he chose Bermuda because he has fallen in love with the island."
For more details on Noah's End-of-Season Bash, visit www.gpass.bm [Event code NOAHBDA].
Read More About
Category: All, Entertainment, News, Sports