Benson Esthetics donated $1,250 to the Bermuda Cancer & Health Centre [BCHC] after hosting a "Girls Night In" event.
Sasha Benson from Benson Esthetics said, "I think it's vital that people are aware of the Equal Access Program. I share Bermuda Cancer and Health Centre's belief that everyone should have access to potentially lifesaving early cancer screening and treatment. Through the generosity of our community BCHC is able to provide their services free of co-pay regardless of whether you have health insurance.
"It was my goal this year to play a role in the Equal Access Program no matter how small it may be. Hence, we hosted our take on "Girls Night In" Thursday October 27th 2022. Our theme was "Champagne & Charcuterie." We had an absolute blast! We were so grateful to have Azuree Williams, Certified Lemonista, Event & Programme Manager of BCHC join us and offer her presentation "Know Your Lemons."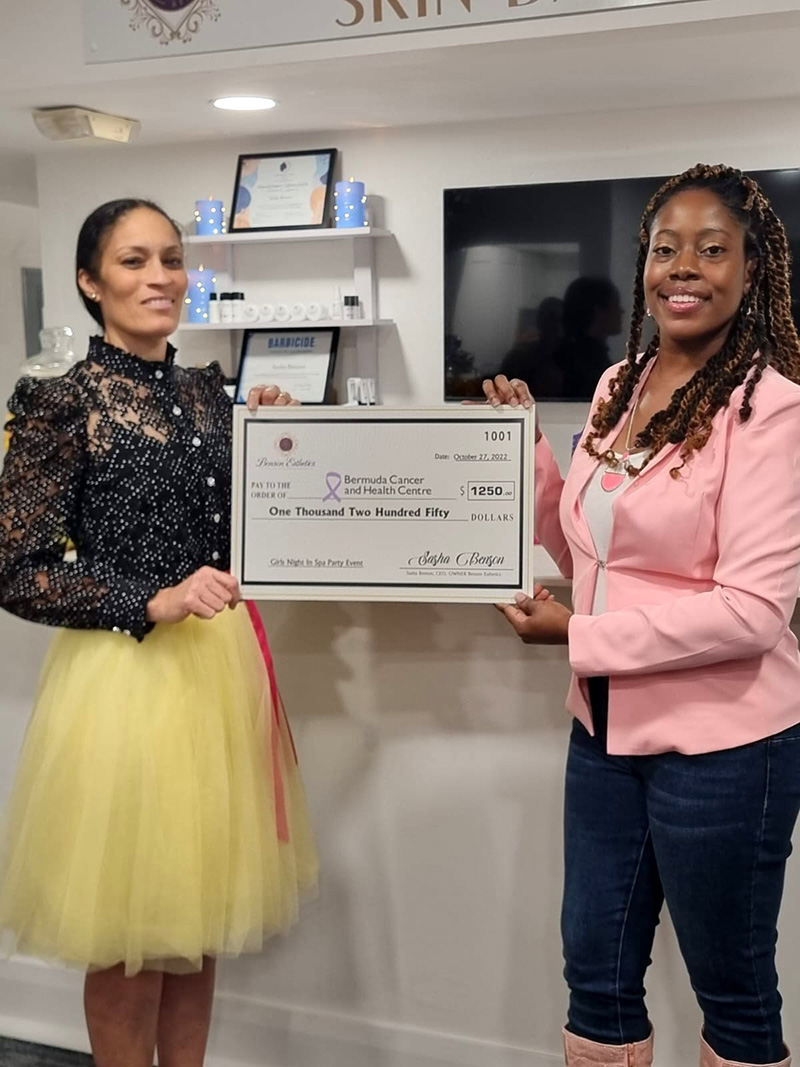 "This programme is a great way to add some zest to breast cancer education. Gather the special women in your life to learn about breast health and ways to find breast cancer as early as possible in a really fun and simple way.
"This presentation led right into our "What Is Your Body Made Of?" Presentation by our Laser Lipo Specialist Janyia Heaven who demonstrated a full Body Composition. This was followed by Live Laser Lipo Demo's, Dermaplaning Treatments, Hydrojelly Enhancement Therapy, HD Digital Skin Assessments and so much more! The event cost was $50 in which 100% of ticket sales were donated to BCH. T
"he highlight for me was thanking all of the beautiful women for attending and because of their attendance we were able to present Azuree with cheque in the amount of $1,250.00 to the Bermuda Cancer & Health Centre. I'm just thankful that our small contribution will contribute to helping someone in need.
"I'm looking forward to working with Bermuda Cancer & Health Centre again in the near future along with other organizations and local charities. Alone we can do so little; but together we can do so much."

Read More About
Category: All