[Written by Stephen Wright]
Dame Flora Duffy and Tyler Smith claimed the top accolades at the Bermuda Triathlon Association awards ceremony at Thyme Restaurant in Paget at the weekend.
Duffy was named the Elite Female Triathlete of the Year, while Smith picked up the Elite Male Triathlete of the Year.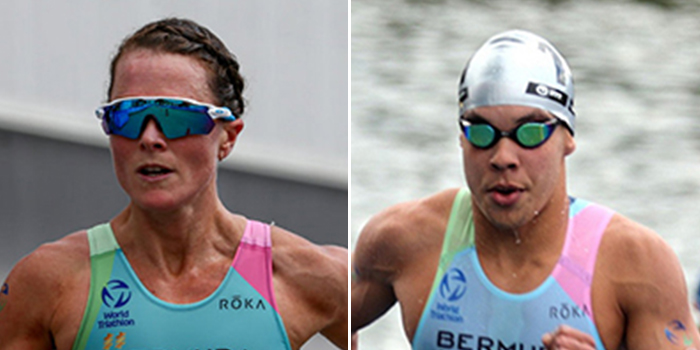 Duffy enjoyed a spectacular year, winning a record fourth world title last week after getting the better of Britain's Georgia Taylor-Brown in the Abu Dhabi heat.
The Olympic champion also stormed to the gold medal in the women's race at the Commonwealth Games in Birmingham last summer.
Smith also represented Bermuda at the Commonwealth Games, producing a career-best performance after finishing thirteenth in the men's race.
Also winning awards were Alex Waldauer [Male Triathlete of the Year] and Maddie Durkin [Female Triathlete of the Year].
The Junior Male Triathlete of the Year was shared by Jamie Bedford and Jackson Langley. Fenella Wightman, who won two golds at the recent Carifta Triathlon, Aquathlon and Mixed Relay Championships, was named the Junior Female Triathlete of the Year.
Erica Hawley and Nick Pilgrim also received a special mention at the ceremony.
Full awards
Sprint National Champion Male: Alex Pilgrim
Sprint National Champion Female: Maddie Durkin
Olympic National Champion Male: Alex Waldauer
Olympic National Champion Female: Maddie Durkin
Best Newcomer Triathlete Male: Marc Anthony Domingo
Best Newcomer Triathlete Female: Catherine Maddever
Most Improved Triathlete Male: Dustin Luck
Most Improved Triathlete Female: Leana Coetsee
Peter Grayson Special Achievement Award: Marie Lynn Dore
John Buchanan Club Person of the Year: Will Green
Jim Butterfield Long Service Award: Sharon Craig
Elite Male Triathlete of the Year: Tyler Smith
Elite Female Triathlete of the Year: Flora Duffy
Junior Male Triathlete of the Year [joint]: Jamie Bedford and Jackson Langley
Junior Female Triathlete of the Year: Fenella Wightman
Male Triathlete of the Year: Alex Waldauer
Female Triathlete of the Year: Maddie Durkin
*The award for Growth, Commitment and Development went to the Bermuda Carifta Squad and their coaches

Read More About