[Written by Stephen Wright]
Fenella 'Nell' Wightman has revealed her golden performances at the Carifta Triathlon, Aquathlon and Mixed Relay Championships were inspired by watching Dame Flora Duffy win gold at the Commonwealth Games in Birmingham.
Wightman emerged as the standout performer at Clearwater Beach last weekend, claiming two individual golds in the girls 13-15 triathlon and aquathlon while clinching silver as part of the mixed relay team.
The 15-year-old travelled with her family to Birmingham to support Duffy last summer and said witnessing the Bermudian icon retain her Commonwealth gold was a major source of motivation.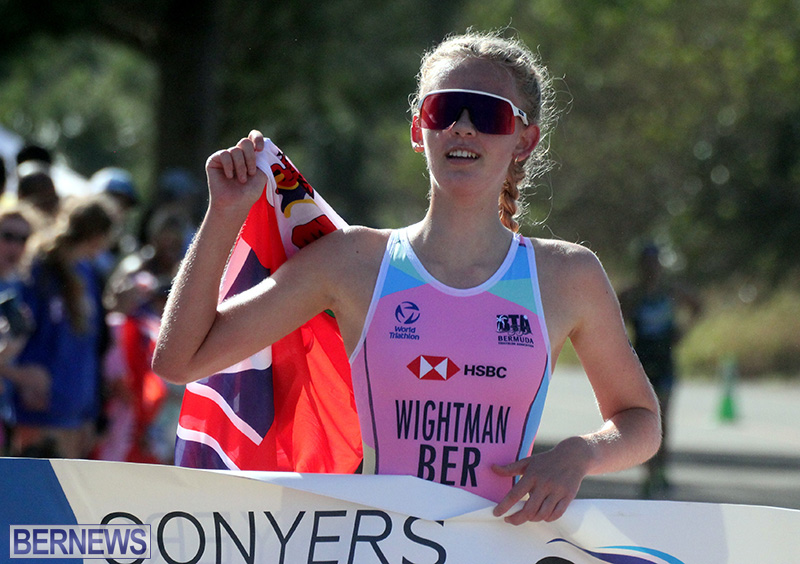 "Flora is a huge inspiration; I've had the honour of meeting her and training with her a few times," Wightman told Bernews.
"We went to Birmingham for the Commonwealth Games this summer and watched her win gold for Bermuda. She is so strong, focused, determined and a great role model."
Hot on the heels of Duffy's masterclass on home soil in the World Triathlon Championship Series Bermuda earlier this month, Wightman took a leaf out of the Olympic champion's book by producing two dominant displays on a dream weekend.
"I'm incredibly happy and proud to win both the triathlon and the aquathlon," said Wightman, who also won the girls 13-15 category in the Kids Duathlon at the WTCS Bermuda.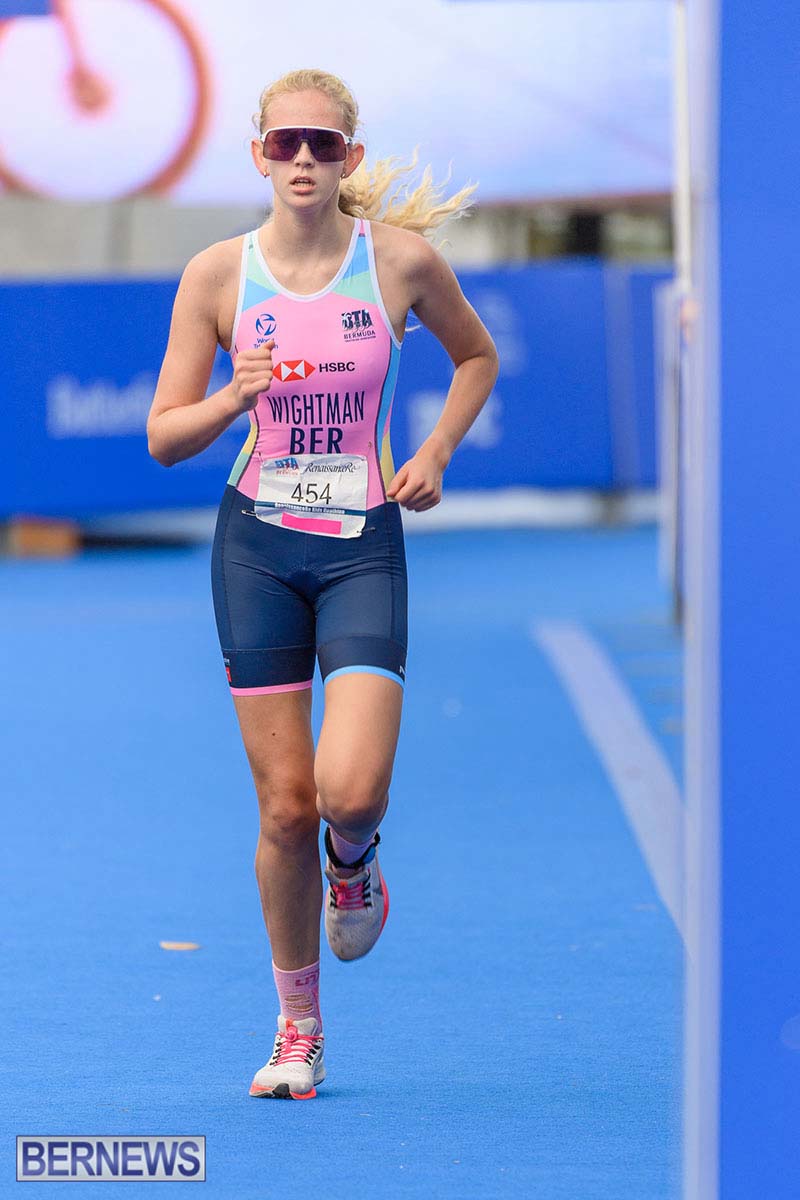 "The conditions were perfect for me. I like choppy seas; some people are pool swimmers and struggle when it's wavy, but I train a lot in the ocean, so I feel comfortable when it's a little rougher. The windy bike conditions played in my favour too.
"The crowd was amazing and lifted me. I'm particularly grateful to my dedicated triathlon coaches, Neil de Ste Croix and Clive Langley, as well as my running and swimming coaches."
The Bermuda High School for Girls student said she was equally thrilled with the silver she won in the mixed relay as part of the Bermuda 1 team along with Jamie Bedford, Tallulah Bonard and Jacob Wright.
"The Bermuda team is a tightly knit squad, and really supportive of each other," she said. "I'm certain our commitment to each other helped lift us to silver overall in the championships [with ten medals, four behind winners Barbados]."
Like Duffy and every other Bermudian triathlete of the past 20 years, Wightman's introduction to the sport came through the Tri-Hedz programme and the Clarien Iron Kids races.
A talented long-distance runner, who represented Bermuda in the 1,500 metres at the Carifta Games in Kingston, Jamaica, in April, she is also a member of the Bermuda Pacers Track Club and Harbour Swim Club.
"I've been running and swimming since I was small," said Wightman, who finished fifth in the 11-12 girls triathlon at the previous Carifta Triathlon and Aquathlon Championships in Montego Bay, Jamaica, in 2019.
"When I was ten, I took part in the Iron Kids race on my mountain bike and won. I was then encouraged to join Tri-Hedz and later the Bermuda team.
"The past year, I've been training more intensively by following a dedicated triathlon performance programme and running and swimming with Pacers and Harbour."
In preparation for the Carifta Triathlon and Aquathlon Championships, Wightman said she centred her training on cycling, which she previously considered her weakest discipline.
"It's definitely difficult to balance the training level in all three sports [swimming, cycling and running]," she said. "I go through periods where I enjoy one of the disciplines more than the others.
"My triathlon performance has benefitted from my increased strength and stamina on the run. I've also increased my bike training, going on longer rides with the coaches and boys in the team.
"I think it's where I gained ground on my competitors and took control of the triathlon."
Up next for Wightman is the Clermont Draft Legal Challenge in Florida in March of next year.
"I want to compete in more overseas events and continue to represent Bermuda internationally," she added.

Read More About