Shi-Vaughn Lee of Dove & Butterfly had the most individual sales during the recent BEDC Cyber Monday event.
A spokesperson said, "Globally, we see continued growth in local businesses increasing their online presence – and Bermuda is no exception. To nurture these new digital efforts and to encourage Bermuda to continue to patronise local vendors by shopping online, the Bermuda Economic Development Corporation [BEDC] continues to support Cyber Monday.
"Cyber Monday, an online initiative that was first launched in 2010 during Global Entrepreneurship Week, aimed to motivate residents to shop local online.
"On November 28th, 2022, Cyber Monday took place to benefit both shoppers and e-tailers: the rewards included a $500 prize to the e-tailer that made the most individual sales during Cyber Monday as well as three $250 vouchers for online shoppers to use at any of the participating online shops.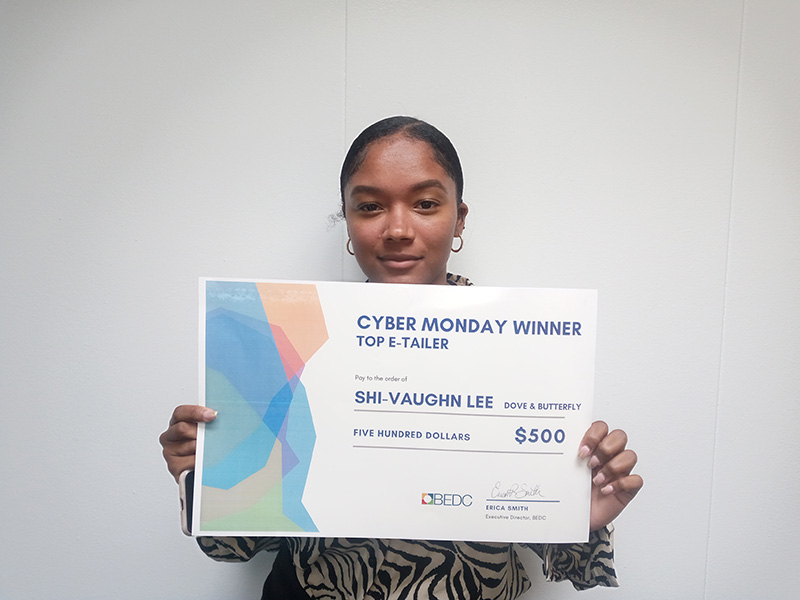 "Nineteen e-tailers [local businesses with online stores] participated in the effort. The e-tailer with the most individual sales, winning the $500 prize, is Shi-Vaughn Lee of Dove & Butterfly".
Ms Lee said, "It feels good to win for the second year in a row! In business, you face quite a lot of obstacles, but to know that despite all of that I can consistently provide an awesome product to my customers is very satisfying. I have to thank God for that."
She continued, "I entered the Cyber Monday initiative this year because I was offering a discount anyway so why not compete at the same time? This year we also focused on assisting Miss Thang raise funds for her Christmas Miracles helping seniors. We were able to donate close to $600 as a part of the Cyber Monday Initiative. I have to thank my Dove & Butterfly tribe for that!"
The spokesperson said, "Three lucky online shoppers: Wendy Butterfield, Maryem Biadillah, and Algene Maybury, each won a $250 voucher for their participation. All participating shoppers were entered into a draw for the prize. To qualify, they had to shop online at any of the participating eTailers, upload their receipt confirmation via the BEDC website and were randomly chosen."
Maryem Biadillah said, "Cyber Monday not only supports e-tailers and boosts e-commerce on the island, but it also has a community-building role. Every year, on the BEDC's listing, I learn about new vendors that are making their entrepreneurial dreams come true and that makes me feel connected to them and proud of them – every time."
"Cyber Monday aims to support and encourage the continuous development of secure e-commerce on the Island," said Jamillah Lodge, Director of Communication & Development at BEDC. She added: "Cyber Monday encourages shopping locally online and motivates sellers and buyers alike to use the Internet when transacting, especially as Bermuda gears up for the Holiday Season."

Read More About
Category: All, Business, News, technology