The CahowCams on Nonsuch Island recently captured a live stream of a female Cahow laying an egg, with the first chicks expected to hatch "during the last few days of February, following the 50 to 53-day incubation period."
A spokesperson said, "On January 18 at 7:17pm, the female returned to the CahowCam2 burrow where her mate had been waiting patiently for the past three days.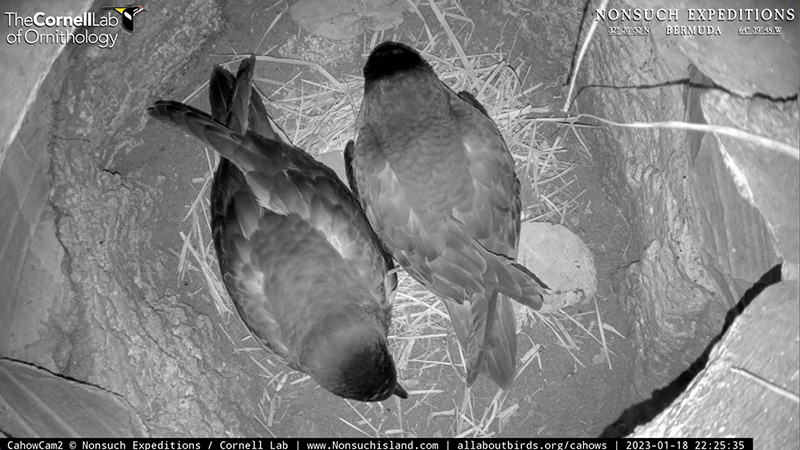 "They were last together in November for their courtship and nest-building rituals. They then spent the past six weeks on their own, feeding on the high seas, so that she could develop her single egg [which can be up to 1/5th of her body weight] and so that he could build up his fat reserves to sustain him through the first several weeks long incubation shift.
"Whilst CahowCam viewers around the world watched, after some quick restorations in the burrow, she quickly settled into the egg-laying process.
"The top-down view of CahowCam2 [as opposed to the side view of CahowCam1] gave a perfect view of her tail feathers fanning out with each push until, only 48 minutes since her arrival, she had laid her egg."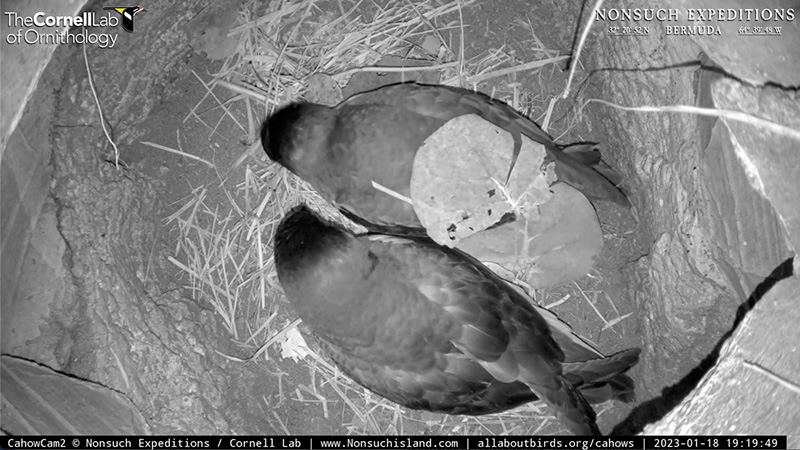 Nonsuch Expeditions founder and CahowCam developer J-P Rouja said, "I was online when she first returned, and immediately set about notifying our followers from around the world via our social media channels, and a special newsletter list that we maintain for those that opt in for 'CahowCam alerts,' which gives them the opportunity to witness rare events such as this via our live stream.
"This time it happened so fast that I had barely finished posting everything and she was done, so fortunately our video players allow viewers to rewind the prior 12 hours to catch up."
The spokesperson said, "The laying process was even faster than that of their neighbors in the CahowCam1 burrow next door, where 10 days earlier, it had taken an hour, which years of CahowCam observations has shown to be quite common.
"In the CahowCam2 burrow [see video below] the male waited just out of view guarding the tunnel, but minutes after the egg arrived he started coaxing her to handoff incubation duties, which several days later, she has yet to do completely.
CahowCam2 Egg Laying Replay And Explainer
"Depending on the body condition of the females, they will often head back out to sea as soon as their mate is there to take over, leaving him to take on the first incubation shift that can last several weeks…
"This year however, with female body weights and eggs heavier than normal, they seem to have more energy reserves and are staying around for the first few days.
"The egg laying sequence in the CahowCam1 burrow was equally interesting. In that case, the female arrived at 3:15am and had laid her egg by 4:15am; in the interim though, the sideview camera documented a whole range of activities including, possibly for the first time ever, the egg as it first appears. In their case the male stayed by her side throughout the process allopreening and comforting her as she went through her contractions. Watch the replay here.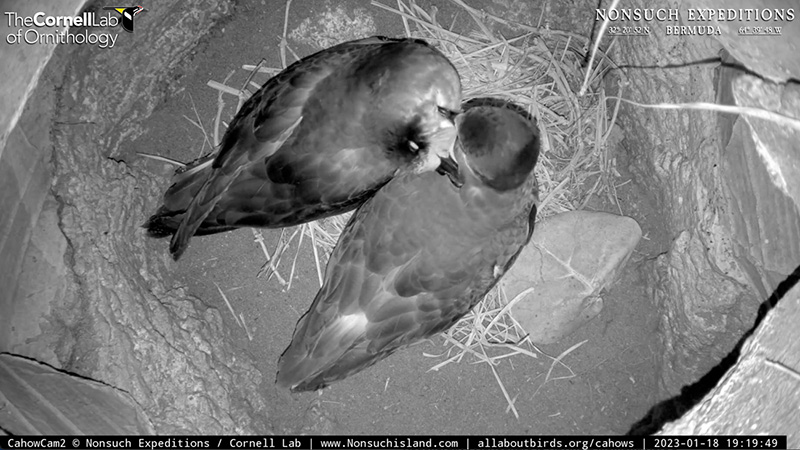 "The Nonsuch Expeditions CahowCams, now in their 10th year, keep adding to the knowledge base of the secret lives of these rarest of birds, and in doing so contribute to their recovery."
Jeremy Madeiros said, "Allopreening, as has now been documented by the Cams, is usually carried out between both members of an established pair to calm and reassure each other, and to cancel and neutralize any aggression between the individuals, often seen when pairs first see each other after spending weeks or months mostly alone on the open ocean.
"The adults will similarly preen the chicks for 5 to 10 minutes before feeding them, as the chick is so aggressive and desperate for food that the parents cannot feed it, and the preening noticeably calms the chick enough to permit the proper transfer of food."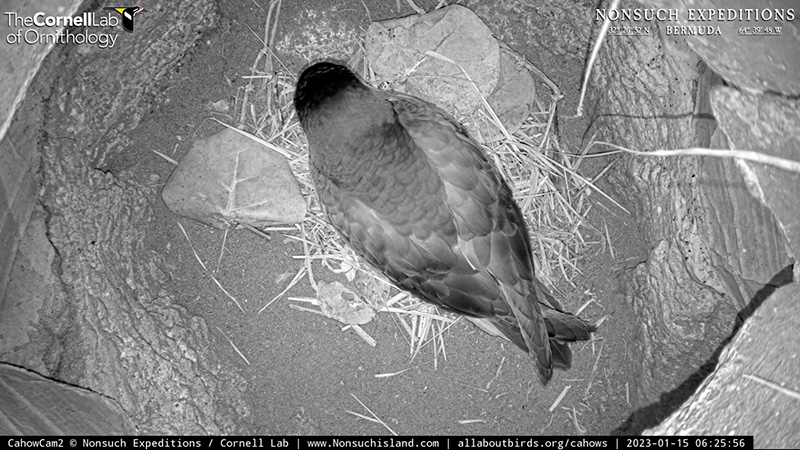 The spokesperson said, "Last season there was a record 156 confirmed pairs that produced an egg from which a record number of 77 chicks fledged successfully, records which we hope to break again this season."
"Cahows have a relatively low breeding success rate of 49% to 56%, although 60% has been attained a couple of years through considerable management of almost every breeding pair. In contrast, the White-tailed Tropicbird, or Longtail, which also nests on Nonsuch and the other nesting islands typically have breeding success rates of 68% to 80%.
"This may be partly due to the longer egg incubation period, and also to the fact that Cahows are much longer-lived than Tropicbirds, at 40-50 years compared to 18-25 years, which leads to a higher buildup of pesticide and chemical residues in their tissues from agricultural and industrial runoff into the world's oceans. Another source of for example heavy metals such as lead and mercury are from coal-fired power stations, with the exhaust plumes containing microscopic particles of these materials, which can blow from the continents thousand of miles to sea, where they settle out in rain.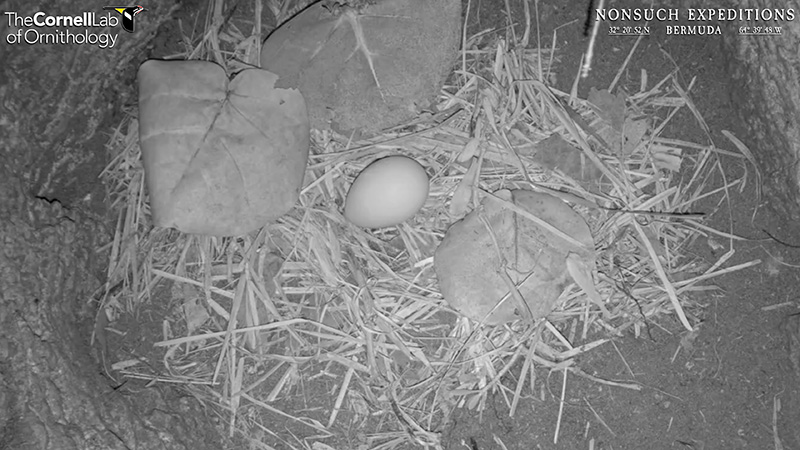 "This relatively high failure rate is something that the team continues to study, with more research being conducted this year in collaboration with visiting scientists. Stay tuned for updates throughout the season."
"At this point on the 23rd January, all breeding pairs have now essentially returned and are incubating their eggs in their nest burrows. The first chicks should start to hatch during the last few days of February, following the 50 to 53-day incubation period.
"To watch the live streams and highlight replays of key events, log onto nonsuchisland.com/live-cahow-cam."

Read More About