On the evening of June 10, the CahowCam 2 chick named 'Zephyr' left the burrow on Nonsuch Island and took off over the open sea, completing the 2020 Cahow nesting season.
A spokesperson said, "Right in the middle of World Oceans Week, at 10:32 pm on June 10, as viewers from around the World watched online, the CahowCam2 chick [recently named Zephyr] launched itself out to sea, capping off a most productive Cahow nesting season!
"She had spent the past hour exercising and stretching her wings whilst exploring the hillside south of her burrow to imprint on her surroundings, so that she can find her way back several years from now.
"The Nonsuch Expeditions Team, Jeremy Madeiros, and her regular followers had been on a fledging watch for the prior few nights, monitoring her nightly excursions outside of the burrow using the remote controlled infra-red cameras, however despite a few false starts, and long sleepless nights for the Team, she had failed to fledge thus far.
Photos courtesy of J-P Rouja for the Nonsuch Expeditions:
"She was one of the last Cahows to fledge this year, which saw a record number of 134 breeding pairs successfully fledge 68+ chicks.
"This season they have found a reliable food source closer to Bermuda than in past years, which has allowed for shorter more frequent foraging flights and resulted in heavier and healthier chicks that grew and fledged faster."
Mr. Madeiros said, "This season also saw a record number of chicks that broke the 400 gram barrier during their growth cycle and was the first time in 16 years that none of the chicks in the colony have needed to be rescued or taken in for supplemental feeding, as happens virtually every year."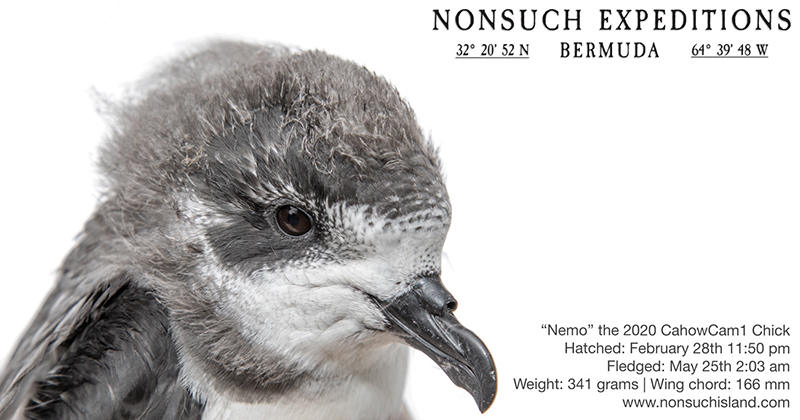 Mr. Rouja, Nonsuch Expeditions Team Leader, said, "Despite Covid restrictions requiring us to control the cameras and film remotely until just recently and power challenges on Nonsuch, we have managed to produce regular video updates and keep the live streams going for our three Cahow colony live streams throughout the season that started in November.
"With so many of our regular and newer followers being home-bound and teachers around the world seeking online content, the tens of millions of minutes of video that have been watched from our Cams through our relationship with the Cornell Lab of Ornithology has now increased even further.
"Despite our star Cahow chicks Nemo and Zephyr having already fledged, we will keep the cameras live to monitor the activities and antics of Stormy, the very lost and 'loneliest' Storm Petrel, who has been sharing the burrow and turning his attentions to Zephyr for the past few weeks, but who will hopefully now be able to attract a mate of his own."
The spokesperson said, "Watch the CahowCams  live here.
"In parallel, on the other side of the island, our new Longtail Tropicbird Cam is broadcasting the early life of a now 2/3 fledged Longtail chick that is three weeks from fledging. Watch the Tropicbird Cam live here.
"Like the Cahows, the Longtails seem to also be finding more food around Bermuda and be producing heavier and healthier chicks than usual, which allows us to observe, at least in respect to the food sources of our target species, that the oceans around Bermuda this year seem to be more bountiful than usual.
"As a wrap up to this very busy World Oceans Week, Nonsuch Expeditions is releasing two new videos.
"The first is the final health check and fledging replay for Zephyr, this year's CahwCam 2 chick and the second for our yet to be named Longtail chick, star of our new Longtail/Tropicbird Cam, which is now 2/3 fledged.
"To learn more about our many ocean-focused initiatives, please visit nonsuchisland.com."

Read More About