Donawin Mallory from the Ministry of Transport has earned the Public Service Excellence Award [PSEA] for December.
A Government spokesperson said, "Last week, Premier David Burt and the Head of the Public Service, Dr. Derrick Binns recognised the Ministry of Transport's Donawin Mallory as the recipient of the December [2022] Government of Bermuda's Public Service Excellence Award.
"As the community is aware, the PSEA is a programme recognizes Public Officers who are demonstrating admirable service delivery. Each month an individual or team is selected for their significant accomplishments in the last 60 days.
"Mr. Mallory is being recognized for consistently working to the highest standards while acting as the Assistant Operations Manager in addition to his substantive post as Traffic Supervisor in the Department of Public Transportation.
Premier Burt, Dr. Derrick Binns, and Donawin Mallory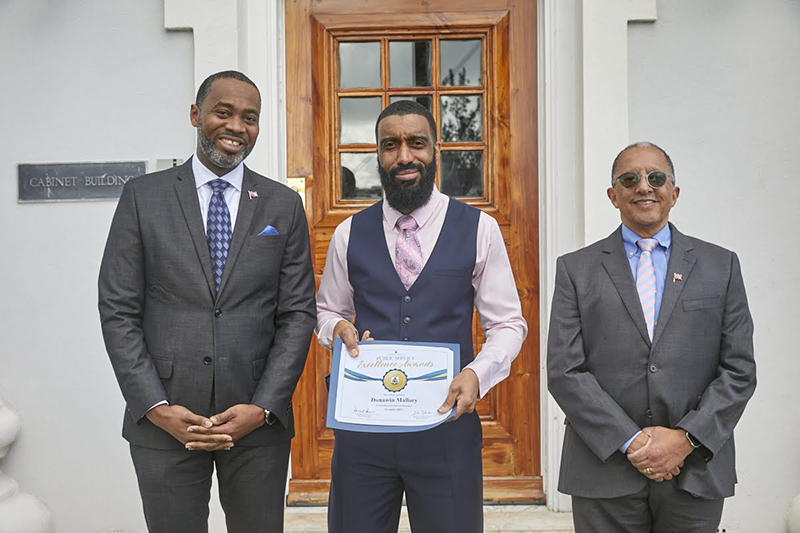 "Recently, Mr. Mallory committed to carrying out tasks traditionally handled by more senior staff, and in doing so, his colleagues have praised him for his initiative to assume key duties outside his remit to the benefit of the Department."
"Mr. Mallory demonstrates charismatic leadership and is often seen coaching and mentoring his team to perform to higher standards. He is compelled to succeed and wishes the same for those around him," said the Department's Acting Director, Ms. Jonelle Christopher. She also touted his exceptional service delivery to the public by handling customer complaints with urgency and thoroughness.
The spokesperson said, "Furthering his role as an invaluable asset to the Department of Transportation, he recently completed an Advanced Incidents Investigations Course with the Bermuda Police Service to increase his knowledge and technical skills, and better assist customer concerns."
Premier David Burt said, "Congratulations, Mr. Mallory, and thank you for your service to your colleagues and the people of Bermuda. Your commitment to professional development is extremely admirable. You have provided a stellar example for all. Thank you again for going above and beyond in all that you do."
Head of the Public Service, Dr Derrick Binns said, "Thank you for your leadership and infectious team spirit. Your commitment to shoulder the success of your department is commendable, and I have no doubt your story will inspire the whole public service to continue to raise the bar."
Read More About