[Updated] Premier David Burt congratulated Todd Fox for receiving the Employee of the Year award, Carlita Lodge on the Rising Star award, Roger Parris on the Excellence in Supporting People award, and Dr. Patricia Chapman on the Excellence in Project Delivery award.
Premier Burt tweeted the photos below, saying, "The Public Service Excellence Awards took place to celebrate the excellent work of Bermuda's public officers. The stellar work that is done for the Bermuda Government and the people of Bermuda is deeply valued.
"Congrats to Mr. Todd Fox for receiving the 'Employee of the Year' award, Ms. Carlita Lodge on the 'Rising Star' award, Mr. Roger Parris on the 'Excellence in Supporting People' award & Dr. Patricia Chapman on the 'Excellence in Project Delivery' award."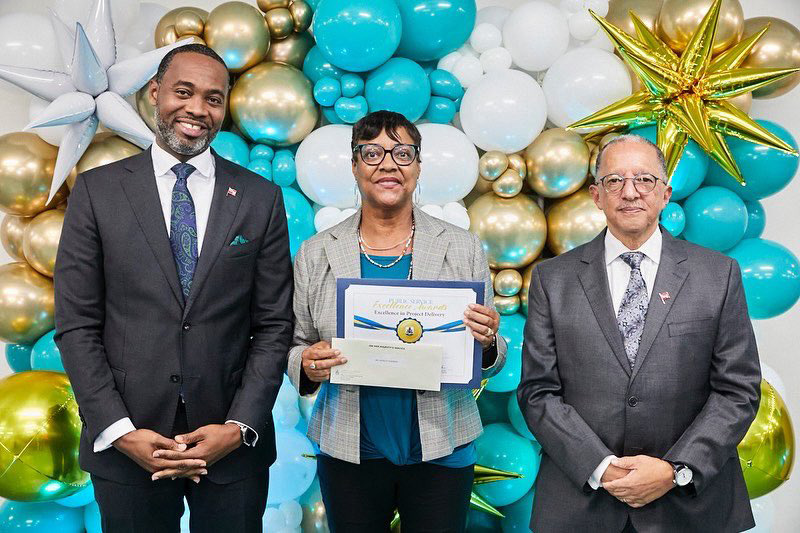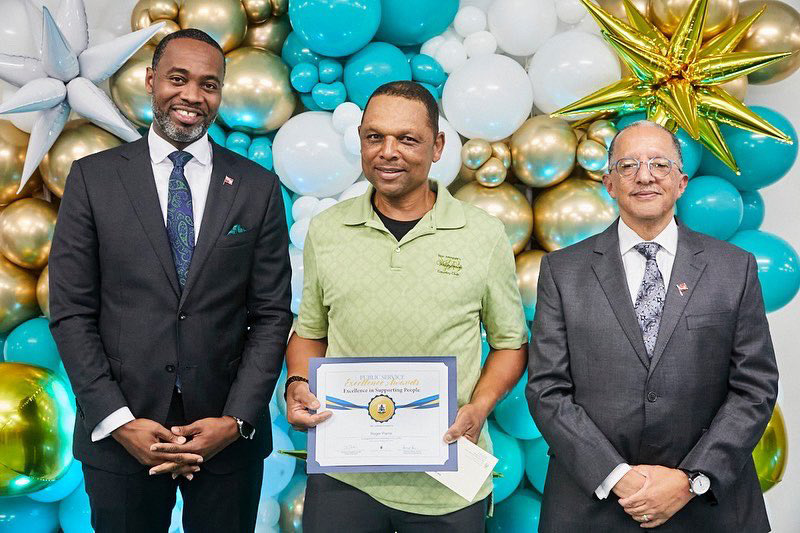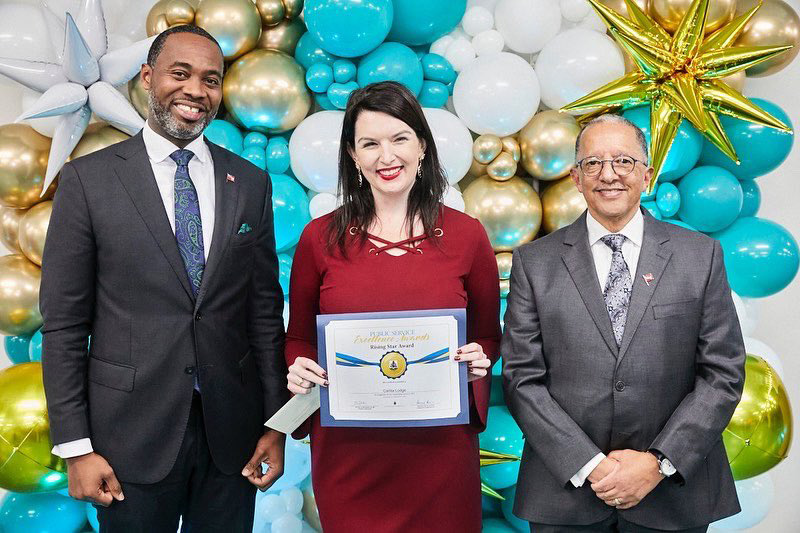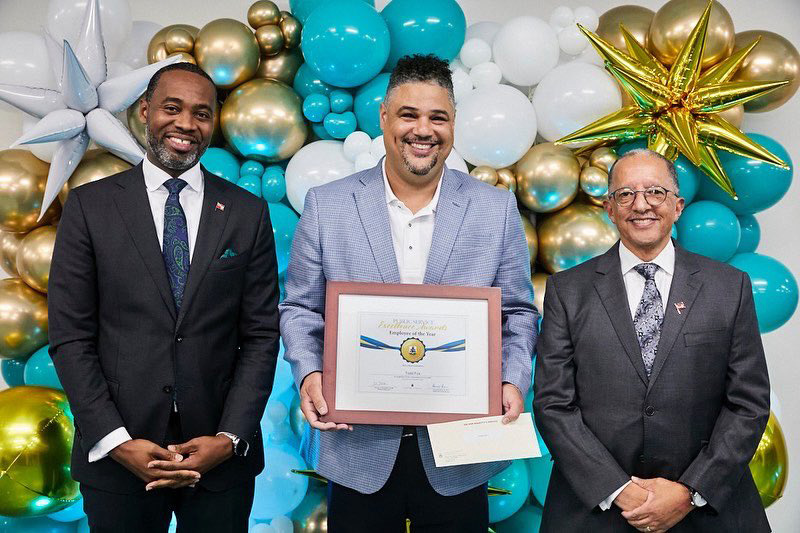 Update 10.30am: The Premier's full statement follows below:
Mr. Speaker, I rise today to inform this Honourable House of the deserving public officer recognized as the Employee of the Year and to acknowledge Public Service Excellence Awards special category winners. The awards were presented at the Public Service Excellence Awards year-end celebration hosted earlier this week.

Mr. Speaker, Honourable Members will recall the Public Service Excellence Awards is a monthly recognition programme for Public Officers. The programme aims to encourage outstanding achievement and to recognize, appreciate and celebrate Public Officers demonstrating admirable service delivery.

Mr. Speaker, the programme launched in September 2021 and during the period approximately five hundred public officers have been nominated either individually or as a part of a team and fifteen have been recognized with the monthly Public Service Excellence Award.

Mr. Speaker, the monthly publication of the fine work being accomplished by public officers helps to balance the dialogue around careers in public service. It showcases the diversity of careers and importantly highlights the array of talented, innovative, service-centric and accountable public officers who contribute with excellence on a daily basis.

Mr. Speaker, each year it is expected that all nominees will be recognized at a year-end appreciation event. The inaugural event, held Tuesday, December 6th at Pier 6 saw the many public officers nominated during the year come together to be formally acknowledged. It was my distinct pleasure to present special category awards and to make the selection from the list of finalists for and present the Employee of the Year Award.

Mr. Speaker, this Government is committed to attracting, nurturing and retaining the brightest and best talent Bermuda has to offer. Our Rising Star Award, amongst other things, recognizes a young person, thirty-five years or less who demonstrates a keen interest in learning beyond their substantive role; an officer who demonstrates potential to excel in a career in public service. The 2022 Rising Star Award was presented to Cultural Affairs Programme Manager, Carlita Lodge. Ms. Lodge has led out on a number of significant cultural programmes and most notably was at the helm of the re-introduction of the Heritage Day Parade following several years of suspension owing to COVID-19 restrictions.

Mr. Speaker, Honourable Members will be aware of the array of services offered and programmes developed to enhance the lives of the people of Bermuda. The award for Excellence in Project Delivery requires that the project solved a critical need, the project was innovative and creative, and it required a team of shared resources from across departments and ministries to work together on delivery. The 2022 award for Excellence in Project Delivery was presented to Training Manager, Department of Workforce Development, Dr. Patricia Chapman. Dr. Chapman led her team at Workforce Development to quickly design and deliver a number of programmes for the benefit of the public, including: the Learn to Earn programme with participating restaurants; numerous Online courses and seminars re-tooling and equipping Bermudians to be more effective in their job search; partnerships with private sector organizations and firms in the cleaning industry, landscaping industry and accounting profession to identify and train Bermudians, and more. Notably, Dr. Chapman led out on the delivery of the Government's Unemployment Benefit Programme which required significant cross-Ministry engagement and resource planning.

Mr. Speaker, our excellence in Supporting People Award recognizes an Officer who readily shares knowledge of policies and processes with others. It requires that the Officer works well as a team member and volunteers to assist with tasks or projects. Our 2022 Excellence in Supporting People Award was presented to Supervisory Foreman, Department of Parks, Mr. Roger Parris. Mr. Parris manages the Skills Development Programme which was developed jointly by the Department of Parks and the Department of Court Services. Mr. Parris is fully dedicated to his role as a public officer which serves as a platform for him to be a mentor to Bermuda's youth and impact young lives in a positive manner.

Mr. Speaker, our Employee of the Year is selected from the group of Public Service Excellence Awards monthly winners for the year. An employee of the year uses their skills and expertise to deliver exceptional outcomes for internal or external customers. The officer shows initiative and performs above and beyond his or her role. The Officer's work achieves tangible results and makes an impact beyond their immediate team or department. An employee of the year is able to deliver in exceptional circumstances and is a self-motivated learner.

Mr. Speaker, there were five finalists considered for the Employee of the Year Award. These included:

Transportation Coordinator, Ministry of Transport, Ms. Stacy Evans;

Talent Manager, Department of Employee and Organizational Development, Ms. Ashjuana Thomas;

Assistant Building Manager, Department of Lands and Building, Mr. Sheridan Ming; and

Supervisory Foreman, Department of Parks, Mr. Roger Parris.

All of these public officers are worthy candidates who serve with excellence.

Mr. Speaker, the 2022 Public Service Excellence Awards Employee of the Year is the Principal at the Francis Patton Primary School, Mr. Todd Fox. Mr. Fox has demonstrated his dedication to raising future leaders of Bermuda with a conscientious outlook on society and all its members. This is evidenced by his application of initiatives to inspire students to think beyond themselves, such as Monthly Random Acts of Kindness recognition. He also continues fostering the 'The Leader in Me' – a growth model programme that emphasizes a culture of student empowerment to unleash each child's full potential through applying the 7 Habits of Highly Effective People.

Mr. Fox is a charismatic and optimistic school leader. He is often seen in classrooms, assisting teachers on a daily basis, as well as inside and outside of the building during recess, lunch breaks, and mornings upon arrival, interacting with students at every opportunity to ensure they are happy and safe.

Mr. Fox has worked tirelessly alongside teachers and parents and is a co-leader for school transformation for Francis Patton Primary School, targeted to become one of the first parish primary schools.

Mr. Speaker, I am delighted by the positive impact the Public Service Excellence Awards Programme is having on the Service. The Government relies on consistent, professional and knowledgeable public officers to deliver for the people of Bermuda.

Too often, public officers are at the receiving end of political and public ridicule, which is a great disservice to their devotion and tireless work. And that is why it is so great to have highlighted public service excellence over the last 15 months, showcasing our many dedicated officers and by extension underlining the rich, rewarding, and diverse career opportunities within the public service.

Thank you, Mr. Speaker.
Read More About