Auto Solutions' Somers Smith has been recognised by Suzuki Caribbean as one of the region's top three sales representatives for the second time inside of a year.
A spokesperson said, "The 27-year-old Bermudian Sales Associate was informed this month that he had scooped the honour from the regional distributor's Rewards & Recognition Programme for the fourth quarter of 2022, repeating his success of the first quarter of last year. The awards are based on customer satisfaction surveys and Somers ranked in the top three among sales representatives working for official Suzuki dealers in 26 countries."
Somers Smith [left], Sales Associate at Auto Solutions, receives his second Suzuki Caribbean top sales representative award from Tim Petty, Assistant Sales Manager.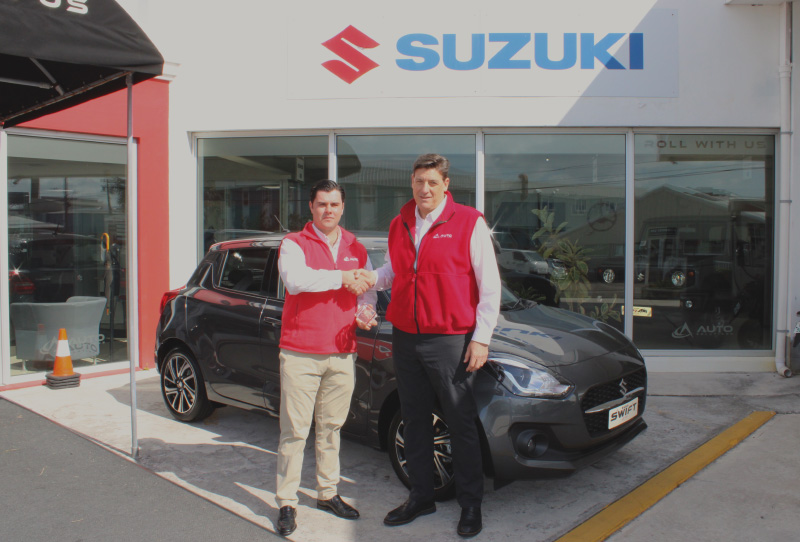 Tim Petty, Assistant Sales Manager at Auto Solutions, said: "These awards are testament to Somers' hard work, can-do attitude and exceptional people skills. Customers have warmed to his personable manner and they appreciate that he truly listens to what they need."
The spokesperson said, "Somers has been with the company for nearly two years. His prior sales experience was with Boyles and Scooter Mart. Somers attributed some of his success at Auto Solutions to being "thrown in at the deep end" on joining the company in April 2021."
"During my first week, all my colleagues had contracted Covid-19, so I was a one-man show by necessity," Somers said. "I had to educate myself very quickly on the cars and the procedures. Overcoming the challenge of that first week gave me the confidence to become a successful car salesman."
The spokesperson said, "Somers named Auto Solutions Sales & Operations Manager Harry Andrews and Scooter Mart owner Nick Thomson as his mentors and added that being responsive and friendly with customers was key to being a good sales representative."
"I'm ecstatic to have won this award for a second time," Somers said. "I would not have been able to do this without the support of my incredible colleagues at Auto Solutions and Suzuki, who have kept us well supplied with inventory during a time of supply-chain challenges for the industry."
The spokesperson said, "Suzuki vehicles have been driven in Bermuda for more than four decades and have proven themselves well suited to the island's climate and road conditions. Suzuki models offered by Auto Solutions include the Jimny, Ignis, Vitara, Swift, S-Cross and Baleno."
Read More About