The Department of Youth, Sport and Recreation announced that the Summer Day Camp [SDC] Programme will take place from July 3 – August 2, 2023.
A Government spokesperson said, "Online registration for the 2023 Summer Day Camp programme opens on Wednesday, May 3rd, 2023 at 9:30 am via the www.sdcbermuda.bm website. Spaces are limited, and the cost for this year's Summer Day Camp is $60 per week, per child. All payments can be made online."
The Minister of Youth, Culture and Sport, Sen. Owen K. Darrell said, "The annual Summer Day Camp programme continues to be a very popular recreational and educational option for our young people. Each year, we welcome hundreds of children from east to west. This is an engaging environment for our young people, and every year our team at the Department of Youth and Sport look forward to hosting those who sign up. As it relates to our hard-working parents and guardians, we will continue to provide them with support by ensuring that the SDC programme is available for our young people during the peak summer months."
The spokesperson said, "This year's theme is "Summer In Color", and camps and locations are as follows:
Locations for 4 – 10-year-olds:
Camp Kiskadee – Dalton E. Tucker.
Camp Pontoon – Prospect Primary.
Camp Hibiscus – Elliot Primary.
Camp Chameleon – Paget Primary.
Camp Bermudez – Northlands Primary.
Camp Palmetto – Eastern Zone Community Centre.
Camp Locations for 10 – 14-year-olds:
Girls to Ladies & Boys to Men Camps – Dellwood Middle School.
"For more information, contact sdc@gov.bm or call 295-0855."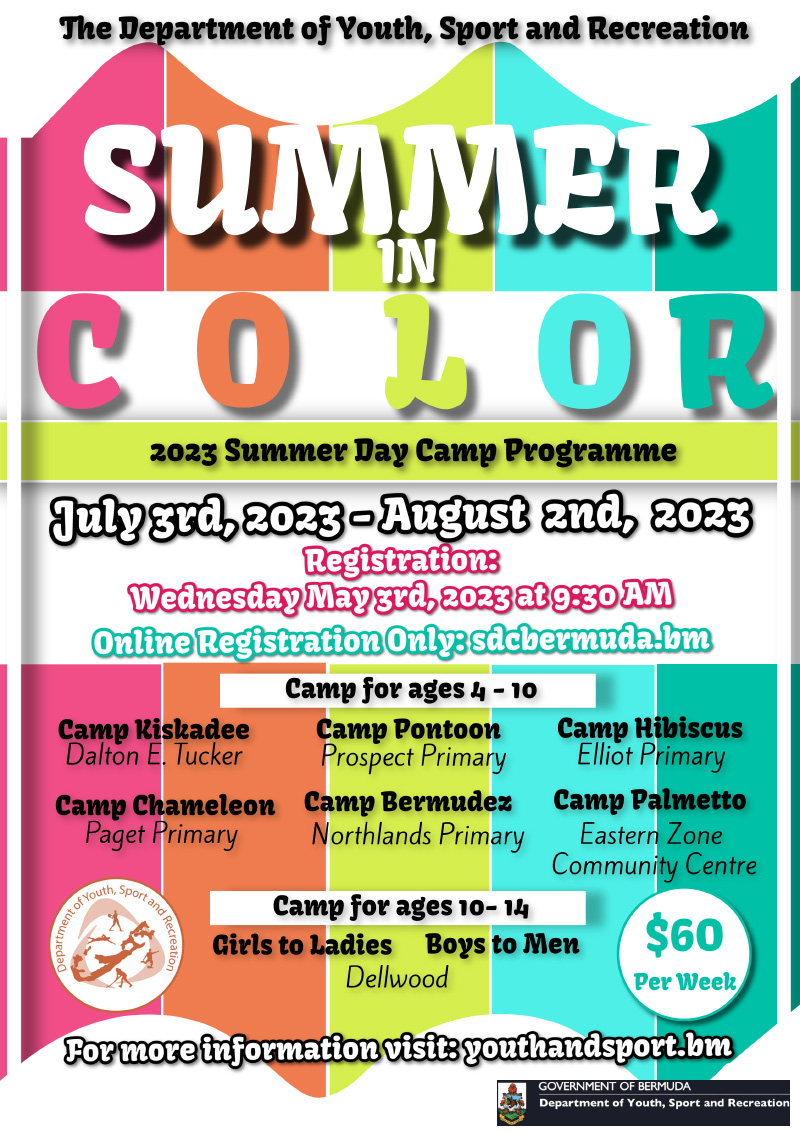 Read More About