[Written by Stephen Wright]
Bermudian boxer Andre Lambe said he is determined to dazzle as the headline act when he faces Filipino Ronniel Tabayag at The Shed in Dockyard next Saturday [May 27].
Lambe will look to extend his perfect record of seven successive wins when he meets Tabayag [6-2-1] in a six-round welterweight contest.
He insists his training camp could not have been better after enjoying quality sparring with stable-mate Nikki Bascome, who meets former opponent Alvin Lagumbay [14-6-1] on the undercard. Bascome defeated Lagumbay by a unanimous decision in June 2019.
Lambe, the American Boxing Organisation and the American Boxing Federation regional champion, told Bernews: "I'm excited about being the main attraction.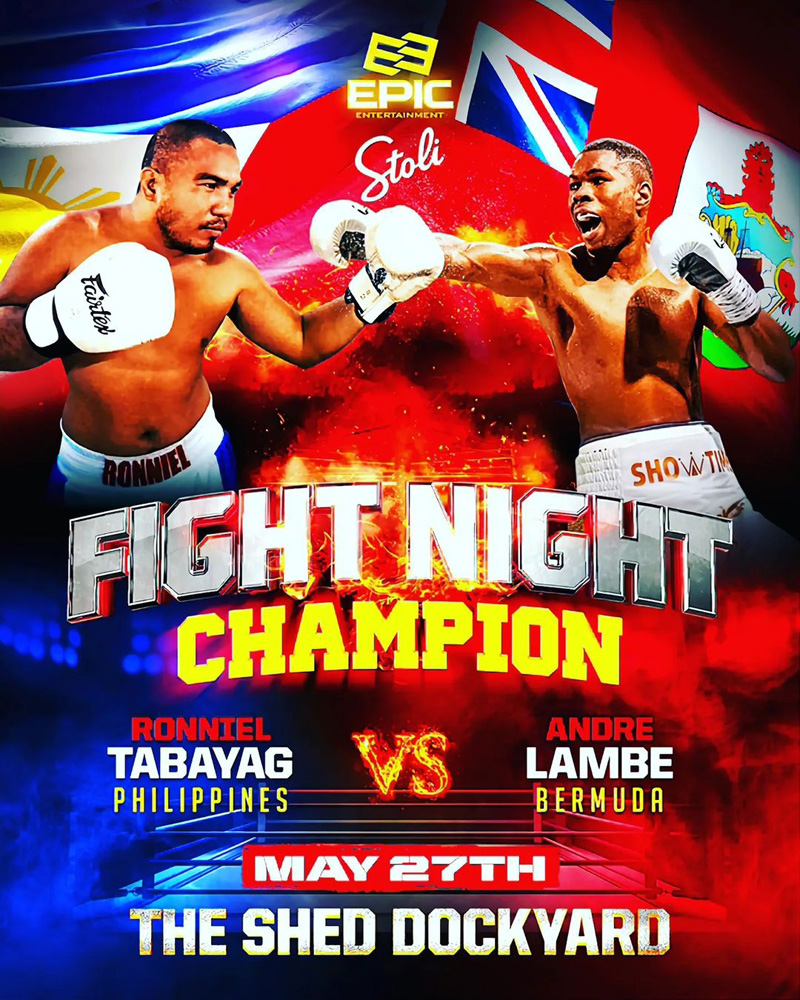 "It won't affect me mentally. It's a privilege to know people are looking forward to watching me fight.
"I've been sparring with all the guys from my gym [the Fresh and Hungry Boxing Club in Warwick]. Nikki is fighting a southpaw, so I've been doing a lot of work with him.
"I had a lot of good work with Adrian Roach, too, before he took a well-deserved break [to recover from injury].
"I'll be moving up to eight rounds at some point. I can do six rounds with my eyes closed!"
Although Lambe has not viewed too much footage of his opponent, leaving his coach Varo Pelon Andrade to create a winning game plan, he revealed he has been working on "something a little different".
The southpaw said: "I've watched some footage on YouTube of [Tabayag]. I never focus too much on my opponents. I leave that to my coach.
"You never know; he could come with something different on the night. I've been working on a different style for this event, something a little different.
"I never look past an opponent. Everything we're working towards is falling in line."
Despite the Covid-19 pandemic stalling Lambe's professional career, with an 18-month gap between his professional debut and second outing, the 27-year-old is thrilled with his career trajectory.
"Not everything happens the way you want it to happen; it happens the way it's supposed to happen," he added.
"Maybe I wouldn't have had the same opportunities if Covid hadn't happened.
"I'm getting the right fights at the right time. It's put me in a position to get these belts.
"I've got some big things in store before the end of this year. I'm pretty excited."

Read More About