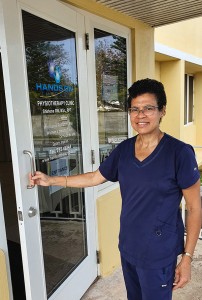 Hands On Therapy Physiotherapy Clinic, started and owned by Shirlene Dill, is celebrating 25 years of service.
Mrs Dill is a registered physiotherapist who has owned and operated her clinic, Hands On Therapy, since it opened on June 1, 1998, in the City of Hamilton.
After many obstacles, and operating out of six different locations throughout the first decade unable to find a permanent location, the clinic finally settled on South Shore in Warwick where it remains today still owned and operated by physiotherapist Shirlene Dill.
"From the day I started my business until today, my goal has always been to provide the best quality service that I could no matter where I was or who I was treating," said Mrs Dill.
"My clinic specializes in John F. Barnes Myofascial Release, TMJ, and Women's Health, but we treat orthopaedic issues, sports injuries, chronic pain, and so much more. We have treated patients of all sorts with all different kinds of needs."
She is currently assisted by Jermecca Lightbourne, her primary support staff, who joined the Hands On Therapy team eight years ago bringing just under ten years of managerial experience to the clinic.
This year Mrs Dill has also reached a career milestone celebrating 40 years as a physiotherapist and now 25 years of helping and healing under her own business Hands On Therapy. She is extremely grateful to her family and the Bermuda community for their support since the opening of her clinic in 1998.
"During my time practising as a physiotherapist I have seen many miracles, especially with people that have gotten better that were not expected to," said Mrs Dill.
"I say this often but my passion 25 years ago is still the same as it is today: to help everyone that walks through my doors."
For more information about Hands On Therapy Physiotherapy Clinic and its services and treatments please visit www.handsontherapybda.com.

Read More About