Films at BUEI continue at the Bermuda Underwater Exploration Institute [BUEI] with the screening of 'Maggie Moore[s]' [2023] on Saturday [Sept 9] at 7.30pm in the Tradewinds Auditorium.
A spokesperson said, "It's up to small-town police chief John Sanders [Jon Hamm] to solve the peculiar murders of two women with the same name. Wading through an unlikely collection of hapless husbands, lonely hearts, nosy neighbours and contract killers, he tries to put the pieces of the case, and his life, together.
"This comedy has a star-studded cast including Tina Fey [30 Rock], John Hamm [Mad Men] and Nick Mohammed [Ted Lasso]. The film is also inspired by actual events and sure to keep audiences on the edge of their seats and in stitches.
Trailer for Maggie Moore[s]
"This film is rated R and will last for 1 hour and 40 minutes.
"Tickets for 'Films at BUEI' are $15 for General Admission and $25 for our Big Screen Package, which includes: a drink of choice [a complimentary glass of wine from California's own Beringer Main & Vine, an Italian Moretti Beer, or a non-alcoholic beverage] and a delightful snack pack to enjoy during the screening. Special thanks to Discovery Wines & Spirits!
"Moviegoers can also enjoy 10% off dinner at the Harbourfront Restaurant when you dine before or after the movie! Reservations are required. Please call 295-4207 to book.
"Visit www.BUEI.bm to learn more about 'Films at BUEI', explore our film lineup for September and purchase your tickets! Tickets can also be purchased via P-Tix by visiting www.PTIX.bm, by visiting our Oceans Gift Shop in person or by phoning 294-0204."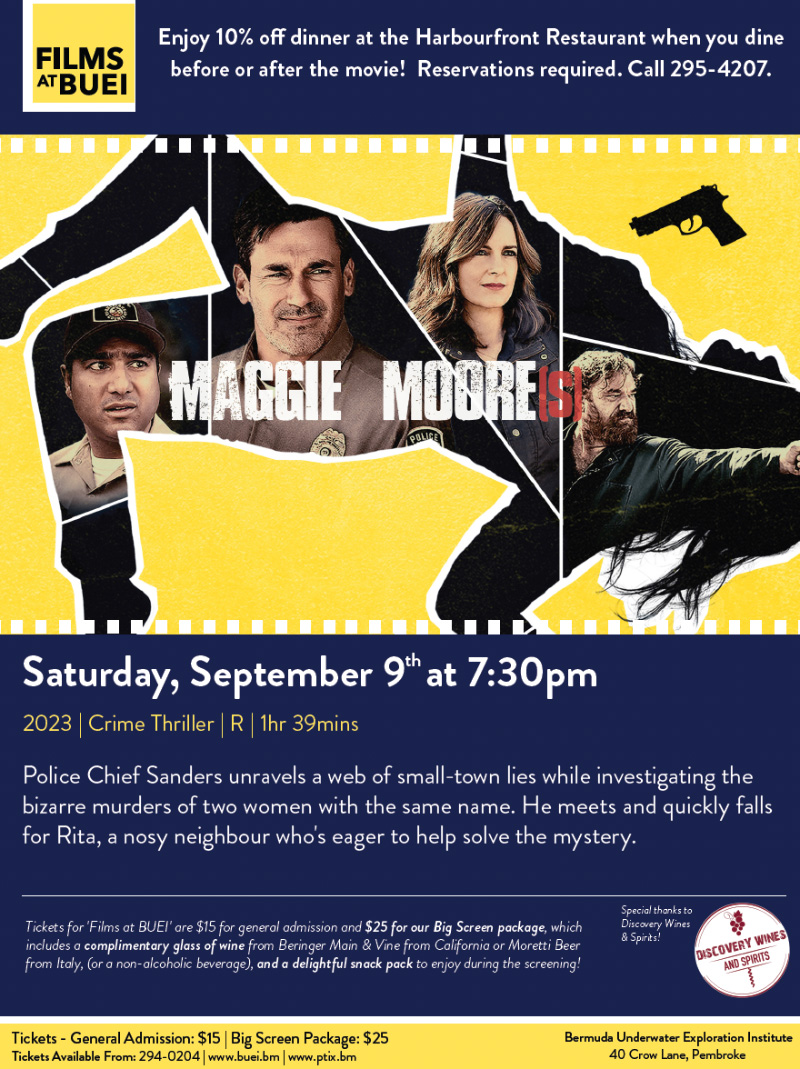 Read More About
Category: All, Entertainment, Films/Movies