An illegal dump site on Tribe Road no. 6 in Warwick brought about a rewarding partnership between Keep Bermuda Beautiful [KBB] and KW Bermuda, and together with neighbourhood residents and Wilmot's trucking they transformed the area.
A spokesperson said, "The one-day project, completed on May 11, was part of KW's Global Red Day, which sees over 200,000 KW real estate agents around the world volunteering in their local communities. 2023 marked KW Bermuda's fifth year of participating and they chose to partner with KBB. The dump site was identified by KBB's trucking partner, Paul Wilmot, who is a lifelong resident of the area."
Mr. Wilmot said "I grew up on Cedar Hill, which connects to a steep and winding path called Tribe Road No. 6. The neighbourhood children and adults use the tribe road for exercise, access to Harbour Road and as a short-cut to Spithead, the local swimming hole. A few years ago, residents started noticing an unwanted trend with abandoned bikes and discarded appliances piling up on a cliff at the bottom of the tribe road. The site is at the edge of Harbour Road, which is difficult to access and was mostly hidden by invasive plants and trees that had grown over the area."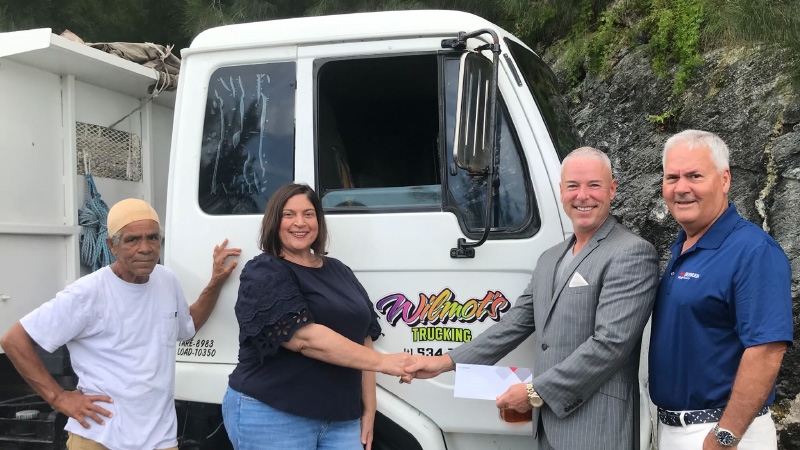 He continued, "Part of the work KBB does is to identify and clean up illegal dump sites across the island. I informed KBB about the situation on Tribe Road No. 6 and they invited KW Bermuda to get involved. The project seemed like a good fit for all and several young men from the neighbourhood lent a hand with cleaning up."
Mr. Moura, KW Bermuda's Operating Principle said, "We have given back to a number of local charities over the past five years of volunteering for KW's Global Red Day, most of which have involved providing social services to the community. This year, we wanted to turn our attention to the environment and contribute to keeping our island home clean and beautiful. Our Director of Luxury, Buddy Fleming, and several other agents suggested that we reach out to KBB."
Mr. Fleming added, "We were thrilled to partner with KBB and seeing the dump site before, compared to after, was a total transformation. We watched the impact of our volunteer labour unfolding right before our eyes as the truck began to fill up with bike frames, appliances, and dozens of bags of trash and recyclables.
"The final result was so impressive that it caught the attention of KW Realty International. They featured the Tribe Road No. 6 project at a recent international conference that was held at KW's global headquarters in Austin, Texas and, to our surprise, KW Bermuda was presented with a donation of $2,000 for KBB.
"There we were, little Bermuda, in the spotlight on a global stage and I had the honour of speaking about our project and the difference we made on that hot summer morning back in May. It was truly a humbling experience for KW Bermuda and KBB to be recognised on such a monumental scale for the efforts of a small group of real estate agents and volunteers who came together to help clean up a neighbourhood."
He continued, "I was so touched by this experience that I am personally matching the KBB donation received from KW Realty International. Working with KBB has ignited a passion for the KW Bermuda team to do more in support of KBB's mission to reduce waste, eliminate litter and beautify the island. We will be participating in more KBB initiatives on a regular basis, not just on Red Day."
Mr. Fleming finished by saying, "KBB, Wilmot's Trucking and the young men from the neighbourhood were amazing to work with on this project. Paired with the KW Bermuda volunteers, we literally created an assembly line for getting the heavy debris off the side of the cliff and onto the truck. Paul's team started early in the morning with chainsaws and hedge clippers, so by the time we arrived, the invasive species had been cut down and the truck had clear access to back right up to the cliff. Together, we demonstrated a great model for teamwork."
Traci Burgess, KBB's Executive Director, said "Thank you to Buddy and the KW team, both in Bermuda and globally, for their tremendous support. We've made a lot of good friends and done some really good work through this partnership. We look forward to expanding KBB's impact on the environment through future collaborations with KW Bermuda. Like Buddy and the team at KW, everyone can get involved and make a difference. It starts with the power of one – one person, one action, one step at a time."
The spokesperson said, "KBB's next major event is the annual Island-Wide Coastal Clean-Up, which is being held from September 28 – October 8. Go to www.kbb.bm to watch the KW Bermuda 2023 Red Day project video and learn more."

Read More About
Category: All, Environment, News