The 'Human Library' event will be held on Thursday, September 28th at the Bermuda National Library.
A spokesperson said, "Do you want a chance to unjudge someone by having a conversation that can break down prejudices, biases and assumptions? Welcome to the Human Library, where Readers are invited to have open conversations with Books for 30 minutes at a time.
"Books are people representing a diverse range of stigmatised and stereotyped groups. They are volunteers who talk honestly about their experiences and engage in authentic dialogue, which includes welcoming candid questions from the Readers.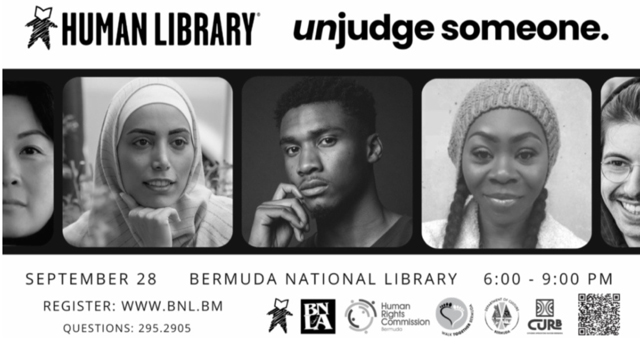 "This unique format provides opportunities for taboo topics to be discussed openly and without condemnation. It's a space where people who would otherwise never talk, meet and participate in a personal conversation.
To quote one of our Books, "I am a Book in the Human Library because my voice matters and the more people I speak with the greater chance there is to change hearts."
"The Human Library offers attendees the chance to see things from a different point of view; to hear first-hand about someone's life instead of assuming what their reality has been. It's about bringing our community together, learning about each other, building understanding and hopefully, making Bermuda a more connected society.
One Reader summarized the Human Library this way, "Such a truly awesome event on sooo many levels! Grateful to the Books for their bravery and transparency and thankful to the organizers for coming together to bring such a profound initiative to Bermuda! My knowledge was expanded, my heart was touched, and my soul nourished!"
"WalkTogetherBermuda in collaboration with The Bermuda National Library, Citizens Uprooting Racism in Bermuda [CURB], the Department of Culture and the Human Rights Commission will host the Human Library on Thursday, September 28, from 6:00 – 9:00pm at the Bermuda National Library, 13 Queen Street, Hamilton. Refreshments will be served.
"Registration is required www.bnl.bm and for more information, visit www.humanlibrary.org To be involved contact Helen at helenorchard1@gmail.com, 747.6280 or email libraryevents@gov.bm."

Read More About
Category: All, Entertainment, News