Young people from a variety of island groups came together for the Keep Bermuda Beautiful [KBB] Coastal Cleanup, focused on the coasts of Black Bay Beach and Glass Beach.
A spokesperson said, "The KBB Coastal Cleanup for 2023 has taken off with a boom. This year the First Devonshire Brownies and the First West Pembroke Brownies rallied other youth groups and community organizations to make a difference by cleaning the coasts of both Black Bay Beach and Glass Beach in Somerset.
"Students from Warwick Academy, Whitney institute, BCCL, West Pembroke School, Mount St. Agnes, Francis Patton, Harrington Sound and the St. Georges Rotary and MSA Rotary Interact Club past presidents, parents from West Pembroke and Francis Patton, along with Executive Director of the Nelson Bascome Treatment Facility in Dockyard turned up to make a difference for our ocean life.
"At 2.00pm on Sunday, October 1, with trash bags, gloves and pick up sticks, the United Citizens Group turned up to tackle two popular beaches which contained hazards to marine life. They noted a large amount of microplastics snuggled in seaweed and sand, waiting to be taken out into the ocean by either wind or waves. Hundreds of tiny plastic particles were captured by the tiny hands of young people, and the eager eyes of adults determined to make a difference for the ocean inhabitants.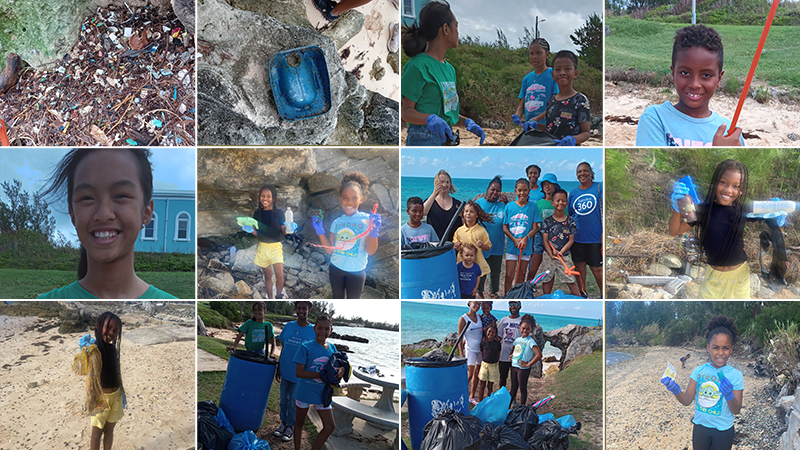 "They collected numerous liquor bottles, beer caps, cigarette butts, plastic ropes, and even one large beach umbrella which was waiting to be blown into the ocean to start its journey.
"This year, the two Brownie groups have amalgamated to form one entity. They meet on Thursdays from 4.30pm until 6.00pm at the church on the second, third and fourth Thursday in each month, and conduct community service on their minibus on the first Thursday in each month while school is in session.
"On Thursday, October 5, they will present hampers of non-perishable food to needy citizens, then hold a Tribute To Mary Prince Picnic at the Mary Prince Park at Devonshire Bay. They will analyze and remove the types of debris found on the coastal shore at the park, then design posters discouraging the community from throwing litter on the beach and into the ocean. Posters will be hung in local grocery stores and post offices.
"The Brownies will be financially supporting First Baptist Church's Feeding programme by holding fundraisers in the community.
"Girlguiding Bermuda is seeking keen, interested leaders to assist in their quest to empower girls to be change makers. Island Commissioner is Wally Simmons. Information on becoming a leader in the movement can be found on the website. Be a change maker."

Read More About
Category: All, Environment, News