[Written by Stephen Wright]
Bermudian cyclist Kaden Hopkins believes his tactical decision-making has improved significantly after a successful debut season with Vendee U – and says he is ready to embrace his new role as a team leader.
The 23-year-old finished the season strongly on Sunday at the Paris-Connerré, a 173.5-kilometre road race, placing 26th and playing a selfless support role in helping team-mate Rayan Boulahoite come third.
Hopkins expects greater licence to pursue victories next season after impressing the team management with his eye-catching displays, particularly at the Tour of Guadeloupe in August, where he won the second and eighth stages.
"My first season [with Vendee U] has been much more than I could have hoped for," Hopkins told Bernews.
"It's been a learning process, understanding the team and race tactics, but everyone has been behind me the whole time.
"By the end of the season, I felt completely comfortable in the races and understood how to race them and how to predict the moves.
"The team director [Hervé Arcade] knows I can be at a level where I can win races. They've told me next year will be different in that I'll be given more priority. I'm already looking forward to next year."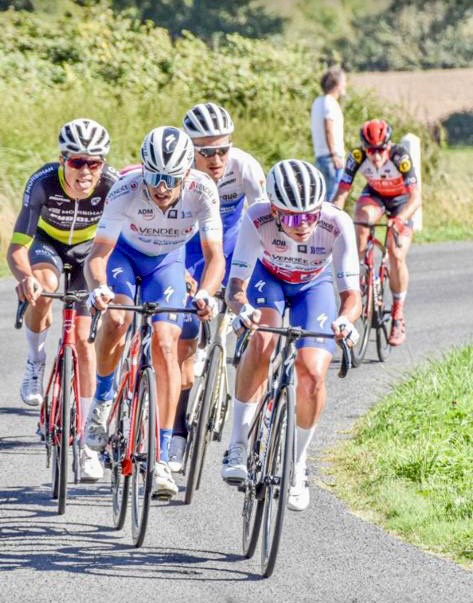 Although Hopkins delivered consistent displays throughout the season, claiming four victories, he has identified areas for improvement. He also said there was never any doubt of returning to Vendee U, a Division One development outfit for Team TotalEnergies, next season.
"There were several races that suited me, but I either crashed at them, or they just didn't work out for me," Hopkins said. "I'm already motivated to improve on what I did.
"I was in contact with the team throughout the season and knew they were happy with me.
"When it came to that point in the year when people are typically looking for teams, I sat down with the management and asked if they thought I could stay for next year. They said they wanted me to return and be a team leader."
Hopkins will now switch his attention to international competitions, with the Caribbean Road Cycling Championships in Guadeloupe, starting next weekend, where he hopes to retain his time-trial title and challenge for top honours in the road race.
He will also represent Bermuda at the Pan American Games in Santiago, Chile, which starts on October 20.
"I like both courses [at the Caribbean Championships] and believe they will suit me," he added. "The past few years, the road race has been very flat, and it's been hard to make any decisive moves, and it keeps coming down to sprints. It will be a punchy circuit this year, and I'll also target the road race."
Joining Hopkins in Guadeloupe will be Conor White, Liam Flannery, Nicholas Narraway, Gabriella Arnold and Liana Madeiros.

Read More About