Bernews spoke with a young man who says he witnessed the shooting of three men on Friday night [March 19].  He details the sudden appearance of two men on a black motorcycle in the area, and the 'ride by' close range shooting of three men.
Please note, this is not an official bulletin from the Police, and it should not be taken as fact.
Update: Mar 21: The official police statements confirm this story.
The eyewitness says that he was talking to two other individuals in the parking area at the junction of Court and Dundonald Streets. He says he saw two men on a black bike ride up on Court Street coming from the TCD side, turn left on Dundonald Street then enter the parking area.
He says they then drove up on the sidewalk and shot at the three men approximately 6-7 times at very close range in the vicinity of the alley located between Place's Place and the barbershop.
According to our source, the assailants then rode off in the northern direction of Court Street back towards TCD.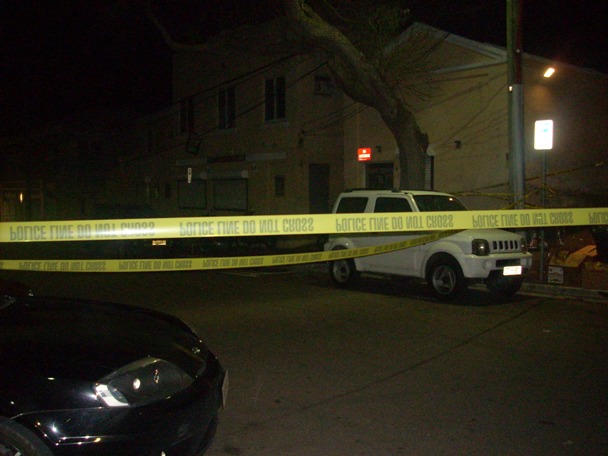 The eyewitness had by this time started to ride off, after previously sensing something was going to happen when the two men on a bike entered the parking lot.
He says he had a premonition earlier that week "something would happen this weekend" after the shooting on Curving Avenue two days ago on March 17.  The gentleman feels the two incidents may be related, with the shooters coming back after "missing" during the shooting on Wednesday. He was unsure, but does not feel the gun incident in Warwick, which had occurred shortly earlier on Friday night, was related.
He also said earlier that night he had seen a "bigga" [high ranking] gang member of a non-central gang in the Hamilton area, which made him suspect impending violence may be a possiblity.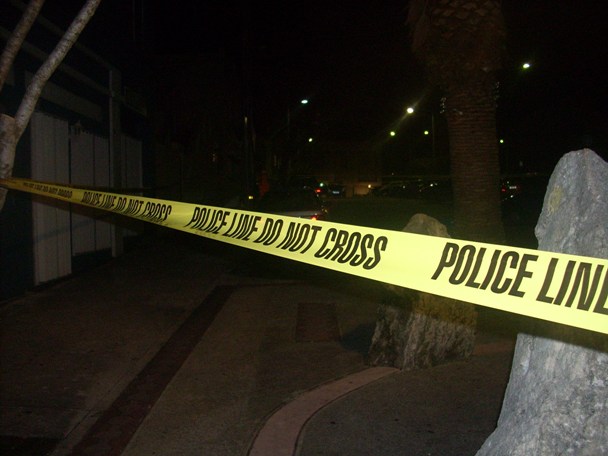 He informed us that one of the men shot is the boyfriend of the daughter of a very well known political figure in Bermuda. [edit: The victim is confirmed to be the son-in-law of former UBP senator Gina Spence Farmer].
He said one of the victims was known to him well. He said this gentleman in question was not involved in any gang activity, worked a skilled job, enjoyed playing sports and was simply "in the wrong place at the wrong time".
He gave us the identity of the victims [which we will withhold] however we understand that at least one victim may be a guest worker here of West Indian descent. [Edit: 2 of the victims are confirmed to be Jamaican - James Lawes and Maurice Martin]
As far as the correlated gun violence and gang issues that Bermuda has seen lately, the eyewitness stated he feels guns are being trafficked in by an entity that is "bigger then people think" and higher then a "street juggler" [low level drug dealer]. He said guns can be purchased for as low as $2,000.
He said one gang in Bermuda may be feeling frustrated as three men from their area have been "dropped" [killed], which is a far higher ratio to other gangs.
He also detailed, something which Bernews has heard before from other sources, that an amalgamation of gangs located in the West, East and Central are combining forces against one single gang, and this incident may be a result of that.
We asked the gentleman as someone with "inside knowledge" what he feels could be done to stem the gun violence. He supported giving the police greater powers, saying they need more freedom to be able to execute searches.
He stated his willingness to assist the Police in their investigations as "my country is getting nowhere".
Update Sat March 20, 2:00pm:
The first eyewitness account was gleaned at 3am and we have since spoken with two other unrelated individuals. Both were in the general vicinity, although not precisely in the area. They confirm most of this eyewitness account, with one man giving a different version of the actual shooting. Whereas our first source said "close range" and 6-7 shots, this secondary source says the shots were fired from further away, and may have been closer to 8-9 shots.
We would like to reiterate that the above is not an official statement and should not be taken as fact. Bernews has not confirmed any of the above statements with an official source.
The official statement released by the Police follows below:
Meanwhile at 10:55pm on Friday, Police responded to a report of gunshots on Dundonald Street in Pembroke, in the parking lot of Place's Place. It appears that three men were shot. They were taken to KEMH for treatment of their injuries. Their condition is unknown at this time.
Detective Chief Inspector Nicholas Pedro of the Serious Crime Unit is particularly interested in speaking with anyone who may have been in the area of Dundonald Street and Court Street in Pembroke around 10:55pm Friday and saw anything suspicious, no matter how insignificant it may have seemed at the time.
Any witnesses to these incidents or anyone with any information are urged to contact the Serious Crime Unit on 299-8115 or the independent 24 hour confidential Crime Stoppers Bermuda hotline on 800-8477. Anonymous tips can also be sent via the Crime Stoppers Bermuda website.
Read More About