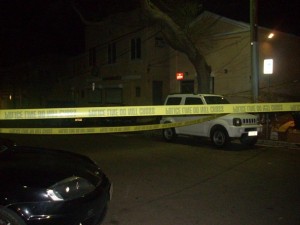 In a week of unprecedented gun violence that has rocked Bermuda, three men were shot on Friday night.
At around 10:55pm on Fri, March 19, three men were shot in the parking lot of Place's Place located on the junction of Court and Dundonald Street.
The men were taken to KEMH for treatment of their injuries, and their condition has not been released.
Police are presently [as of 4am Sat March 20] maintaining a presence in the area, with Police officers on all three sides of the crime scene.
Update: For an eyewitness account [unconfirmed] of the shooting of the three men click here.
A gun also appears to have been shot in a Warwick residence one hour earlier, after a group of men entered a residence on Bulkhead Drive.
It appears that after the group entered the residence, they brandished and discharged a firearm, with no one being injured. A sword was also brandished, with one man receiving lacerations to his arms & body. He is at KEMH being treated for his injuries.
The police have not confirmed if the two incidents are related.
These latest two incidents mark the 4th and 5th [possibly 6th] gun incidents in only one week:
A 16 year old was shot at a late night function at Bermuda College Sat March 13 [link]
There was a gun fired in the Somerset area on Tues Mar 16 [link]
There was a gun fired on Curving Avenue on Wed, March 17 [link]
A taxi driver was robbed by a man wielding "what appeared to be a firearm" on Thurs, March 18
Rampant shootings are a fairly recent occurrence in Bermuda, with numbers climbing at an alarming rate.  This week is one of [if not the] worst week in Bermuda's history for gun violence.
Data provided by the Bermuda Police show there were 8 confirmed uses of firearms in the five years prior to 2009, and a total of 15 confirmed uses of firearms in a single year in 2009. 2010 appears on track to well exceed the 2009 statistics.
Police are appealing for any witnesses or anyone with any information in this incident to contact the Serious Crime Unit on 299-8115 or the independent 24 hour confidential Crime Stoppers Bermuda hotline on 800-8477. In addition, anyone with any information can send an anonymous tip via the Crime Stoppers Bermuda website at crimestoppers.bm
Bernews implores anyone who may know anything to assist the investigation for the good of the greater community.
Read More About