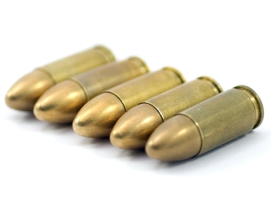 Just before 7am this morning [Tues, March 16], a gunshot was fired in the Scott's Hill Road, Sandys Parish area.
The Bermuda Police attended the scene and conducted a thorough search of the vicinity, where they recovered one spent round [bullet].
Speaking with a former Regiment officer, he informs us that the weapon that the Police would be looking for in this instance would be an automatic, versus a revolver or six shooter. The most common caliber of automatics is generally considered to be a 9mm.
Minister Glenn Blakeney has stated that guns are rented in Bermuda for a cost of $2,000 – $3,000.
There were no reported injuries.
This latest round of gunfire in Bermuda comes only 3 days [to be precise 78 hrs] after a 16 year old Warwick teenager was non fatally shot at a late night event at Bermuda College.
So far in 2010, Bermuda has lost one person to gun violence. 34 year old father of two Perry Puckerin was fatally shot in Hamilton Parish on January 4th.
An investigation into this matter is underway and Police are appealing for witnesses to contact the Somerset Criminal Investigation Unit on 234-1010, the Serious Crime Unit on 299-8115 or the independent 24-hour confidential Crime Stoppers Bermuda hotline on 800-8477. Anonymous tips can also be sent via the Crime Stoppers Bermuda website. We encourage any Bermudians who know anything about this, or other gun incidents to support the wider community and assist the Police.
Read More About