The police have now confirmed that the victim of the shooting at the Victor School school field during kite flying celebrations this afternoon has died. 35 year old Kimwandae Walker died at the scene after being shot multiple times, in front of his own children.
Bernews understand from unofficial sources that at just before 2pm, two men on a bike wearing full face visors rode onto the field, jumped off and opened fire in the far corner, then sped away over the hill towards North Shore. The bike's licence plate had been removed.
We also understand the victim was flying a kite with his children when he was shot, and we can confirm the highly disturbing fact that there were numerous children present. In a chilling scene, this shooting took place at what was labeled a "family fun day".
There were dozens of people at Victor School school field at the time of the shooting; playing football, flying kites etc. Bernews understand that no bystanders were injured.
Video of the Police Forensic Unit searching the scene this afternoon:
We understand the victim, Kimwandae Walker, owned his own trucking company, and was shot very close to his family homestead, although he personally did not reside there.
Updates were posted as they came in, latest at bottom:
Update #2: The Police have confirmed the shooting, but not the victims death.
Update #3: The Police canine unit have arrived, with the dogs sniffing the crime scene
Update #4: In what can only be described as sickening tragedy, we received reports that the victim was playing with his son, and his son witnessed the entire incident.
Update #5: A new report says both the victim's children witnessed it.
Update #6: We understand the victim had spotted the gunmen when they entered the field, attempted to run away, tripped, and was shot point blank after he fell.
Update #7: Crimestoppers have stated "Father killed in front of his kids. Bermuda do the right thing. Crime Stoppers is completely anonymous. Help bring the killers to justice."
Update #8 Reports say the victim was screaming for someone to move his children just prior to being shot.
Update #9: Police have confirmed the victims death saying "35 year old man succumbed to his injuries after being shot on Victor Scott school grounds during family fun day; investigation underway."
Update #10: MPs Paula Cox, Zane DeSilva, Neletha Butterfield, and Michael Weeks have all spoken strongly against this tragic act of violence, with area MP Michael Weeks saying "Coming from a small community, we know who is responsible for these acts and I'm calling on everyone to do their part".
Update #10: Police confirm victim as 35 year old Kimwandae "Biggs" Walker
Update #12 Sun April 4: Police announce that they have arrested two people for this incident.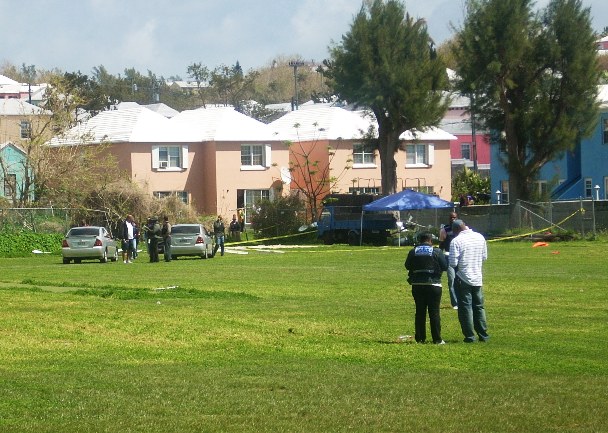 This marks the 3rd murder for 2010, following the January death of Perry Puckerin, and the murder of James Lawes on March 19. It is also the 4th weekend in a row someone has been shot.
Gun incidents in March 2010 include:
Gun Incidents for February include:
A 24-year-old Sandys man was shot in the right hand in the Scotts Hill, Somerset area on Wed, Feb 3
On Feb 13 Nathan Darrell, 23, was non fatally shot three times in Kitchener Close, Sandys. 31 year old Quincy Brangman has been charged
A 28 year old Pembroke man shot in St. Monica's Road, Feb 21
Gun Incidents for January include:
Perry Puckerin shot and killed in Hamilton Parish on Sun, Jan 3
A man was shot in the leg in the St. John's Road Pembroke area on Sun, Jan 10
The Police contact details are below:
Contact the Serious Crime Unit on 299-8115
Contact the independent 24 hour confidential Crime Stoppers Bermuda hotline on 800-8477.
Send an anonymous tip via the Crime Stoppers Bermuda website crimestoppers.bm
Bernews extends our condolences to the victim's family and friends, and urges members of the community to assist the police. This is our country, our people, and as the police have repeatedly stated they require the public's assistance to stem this crime wave. If you wish to be discrete, send an anonymous tip via crimestoppers.bm
Read More About